One of our TWIL agents, Bari Rose, visited Greece and here is what she has to say about her travels:
About the Island of Crete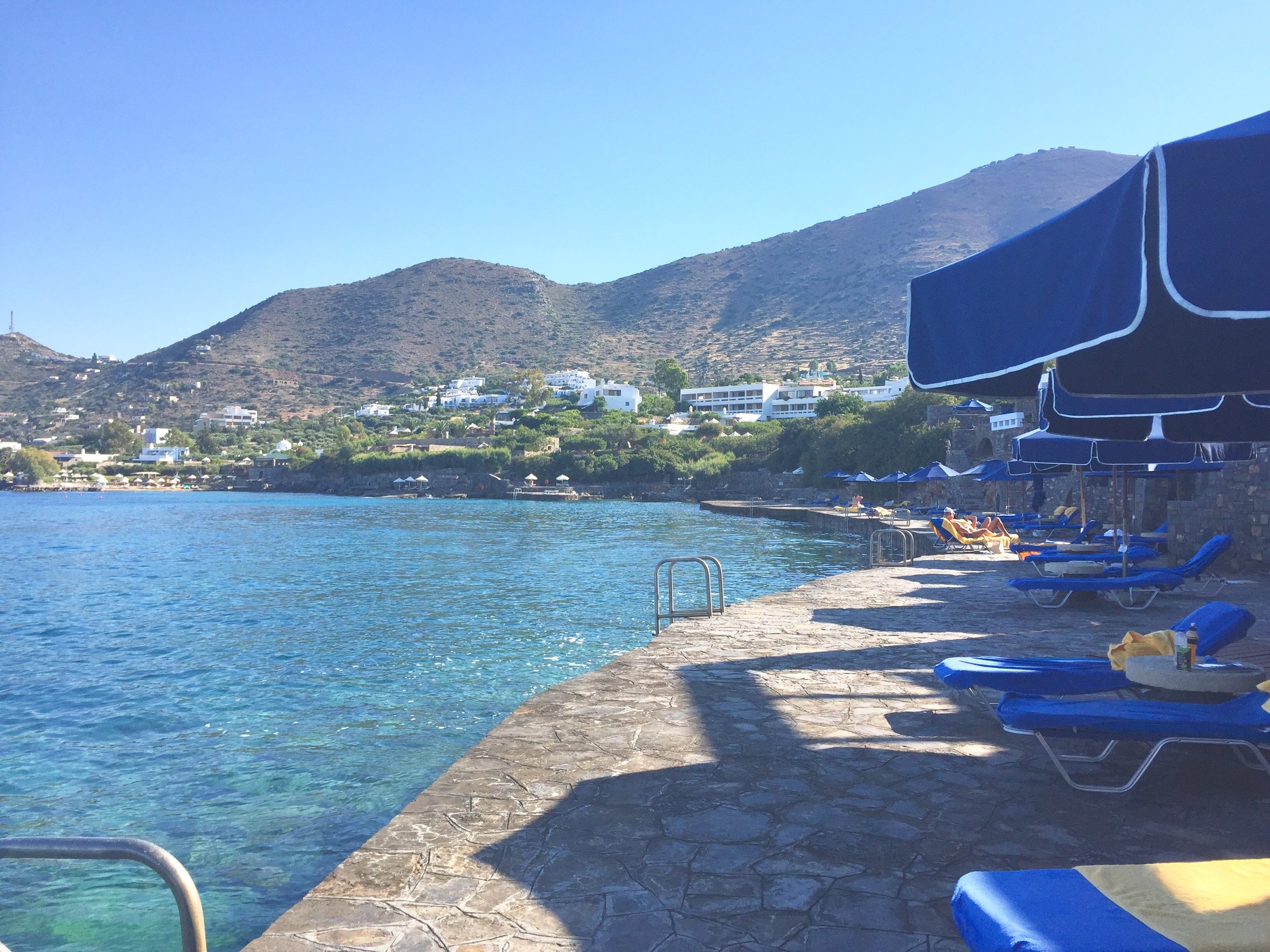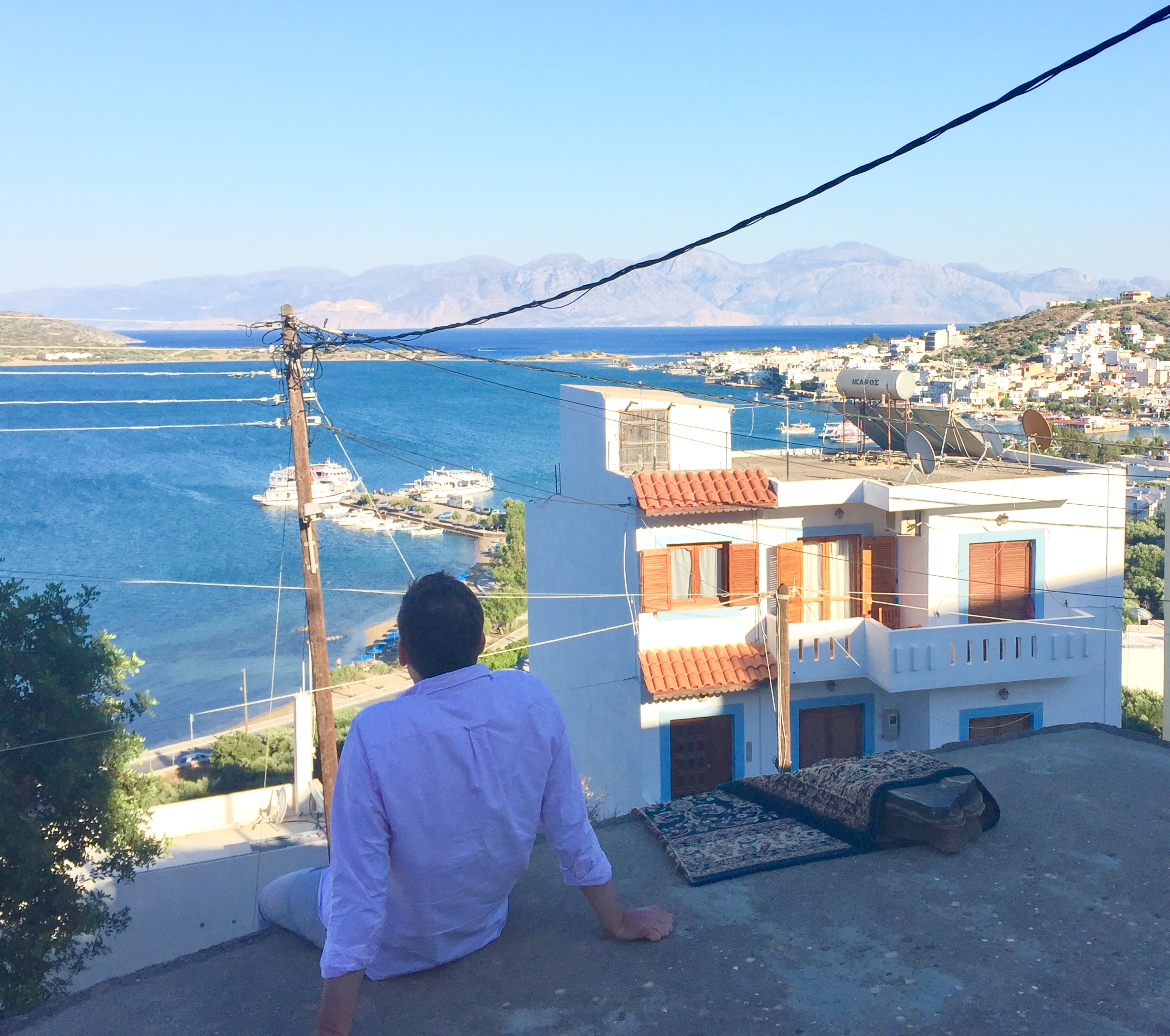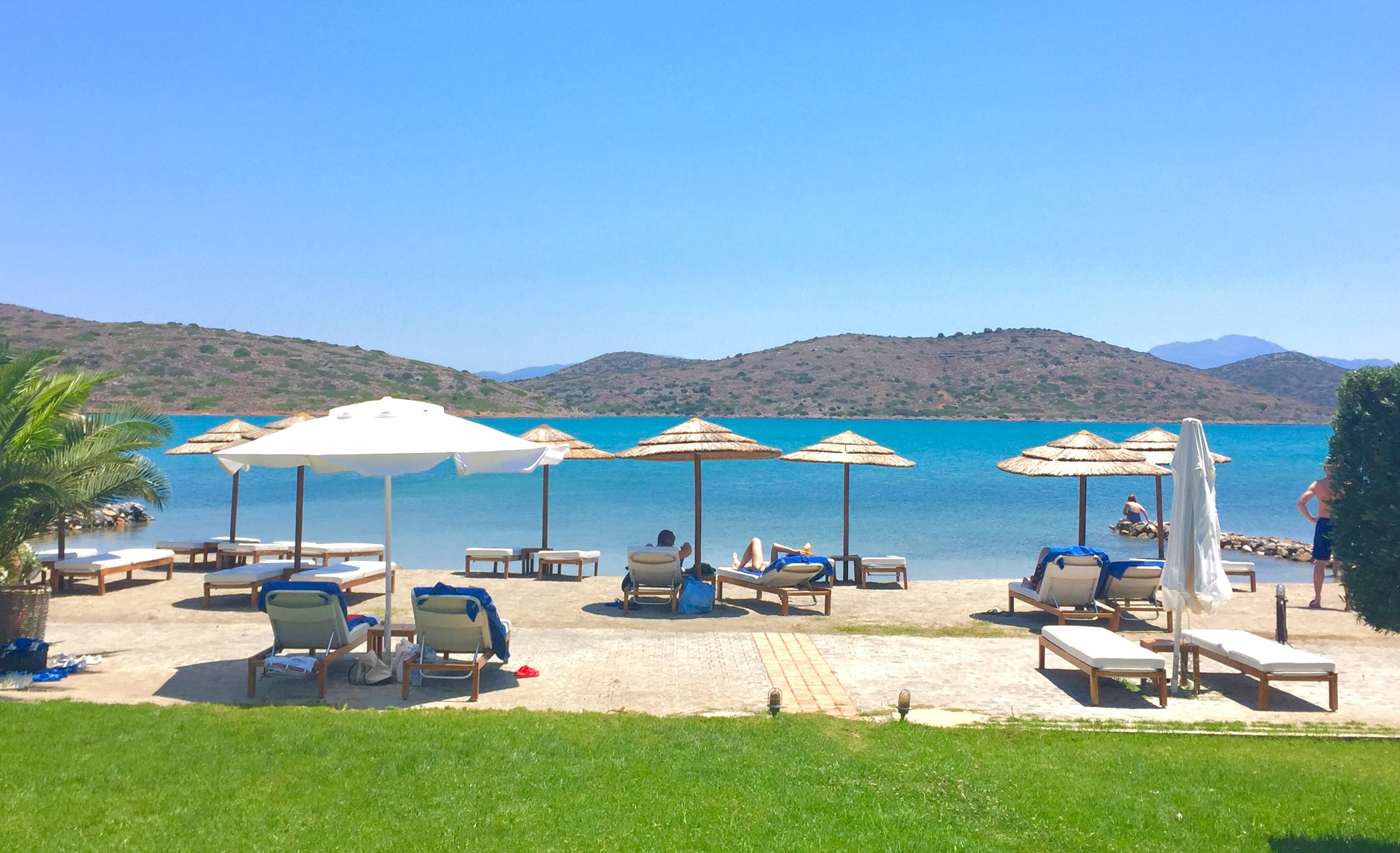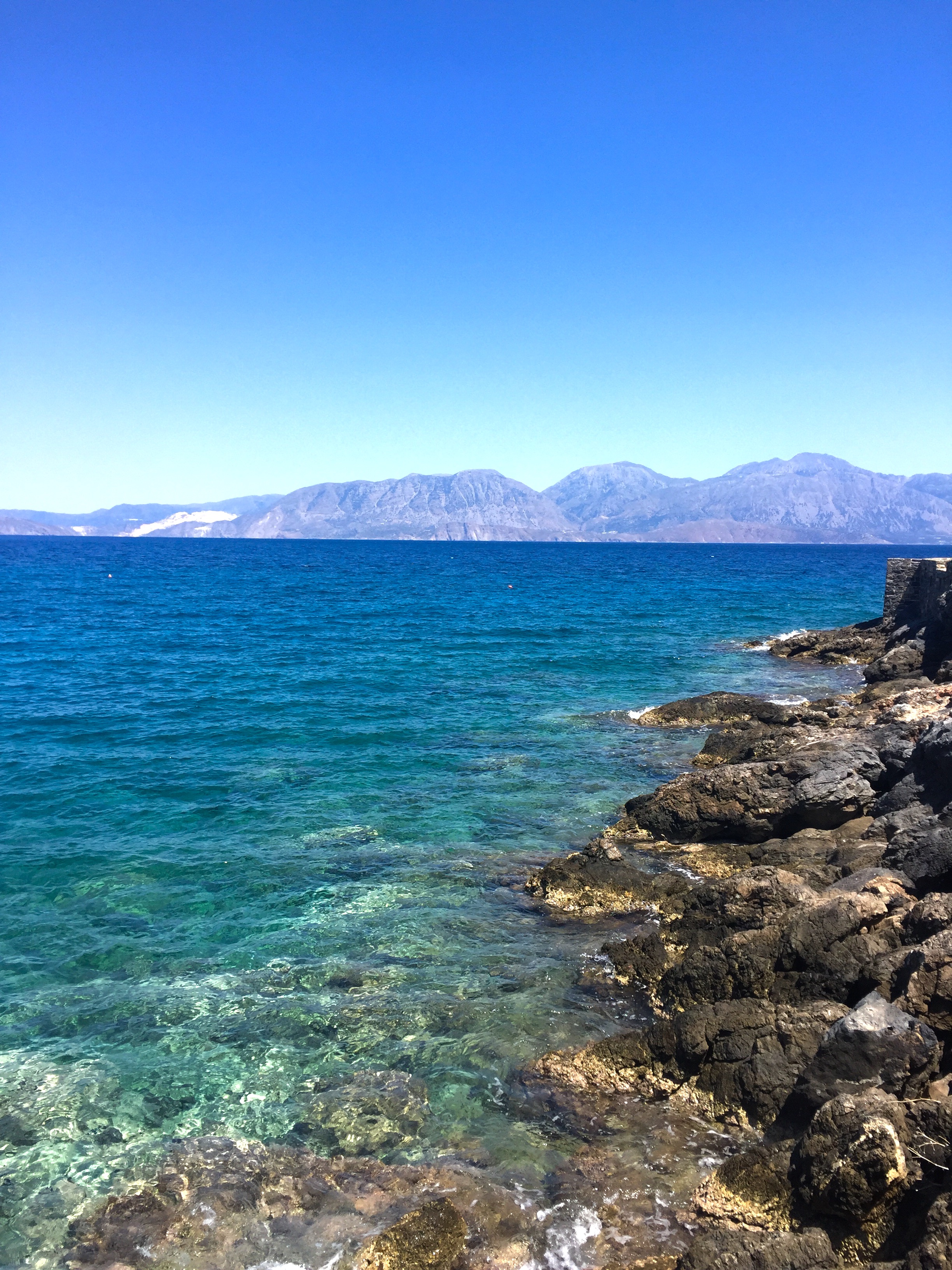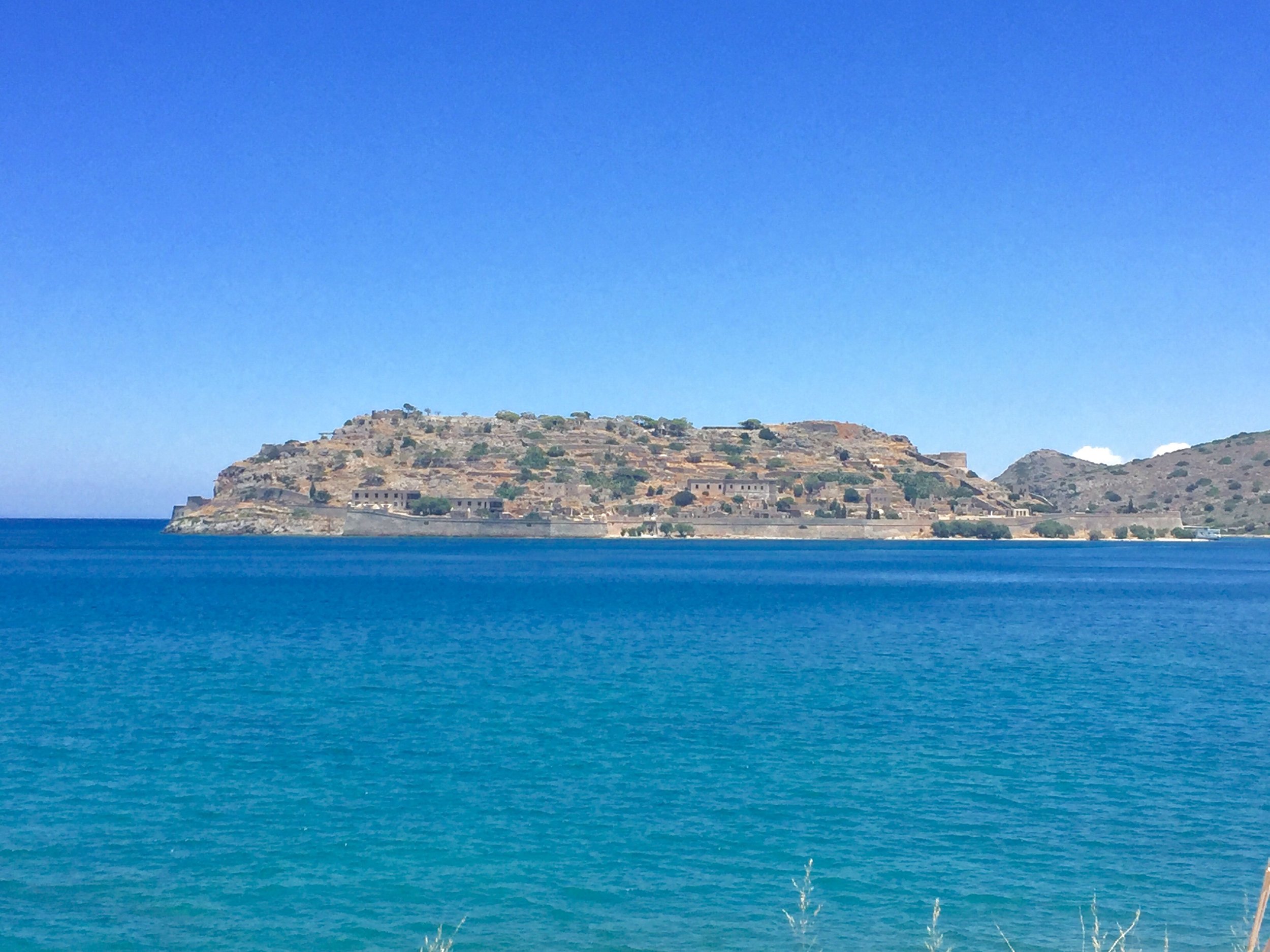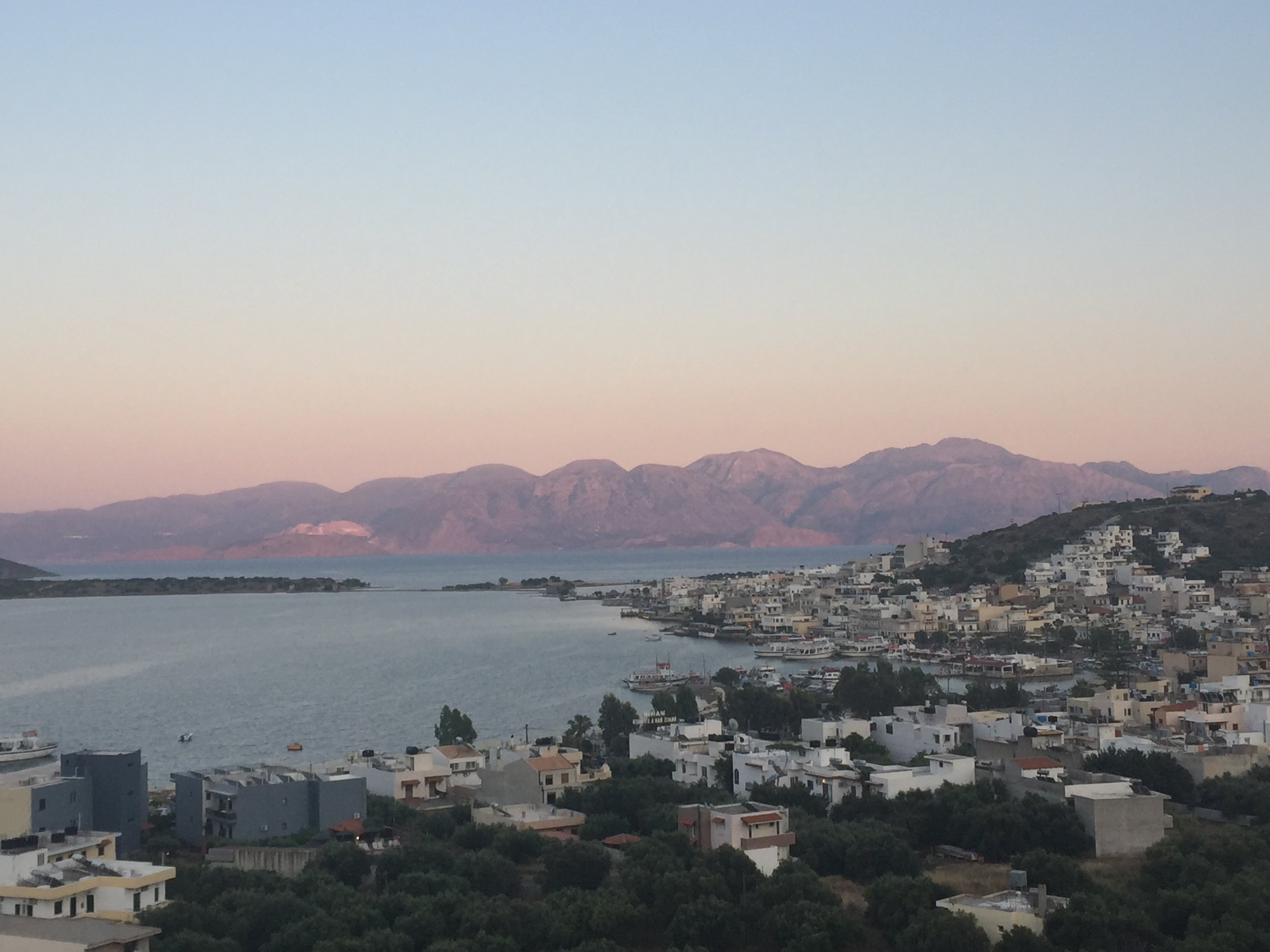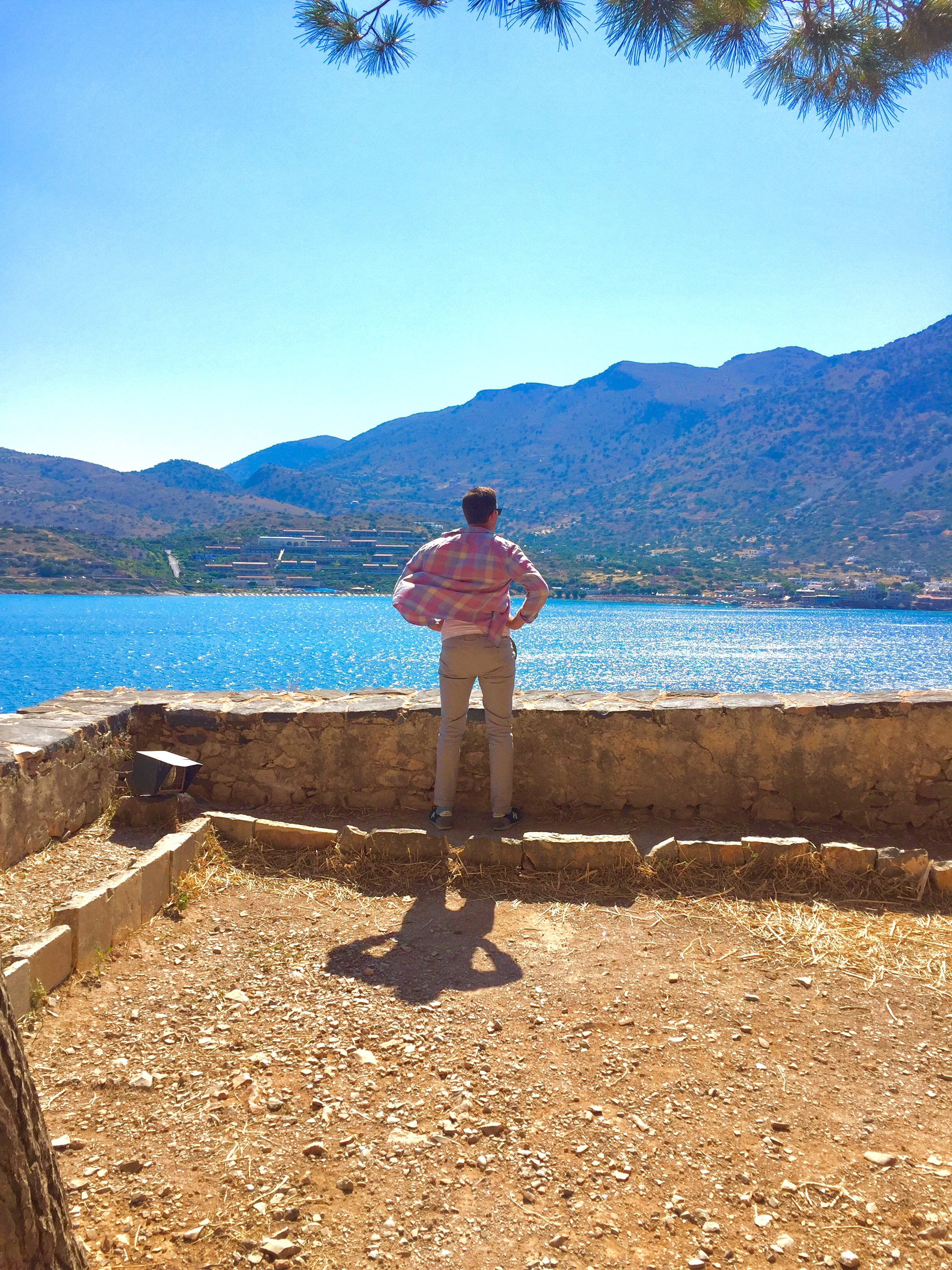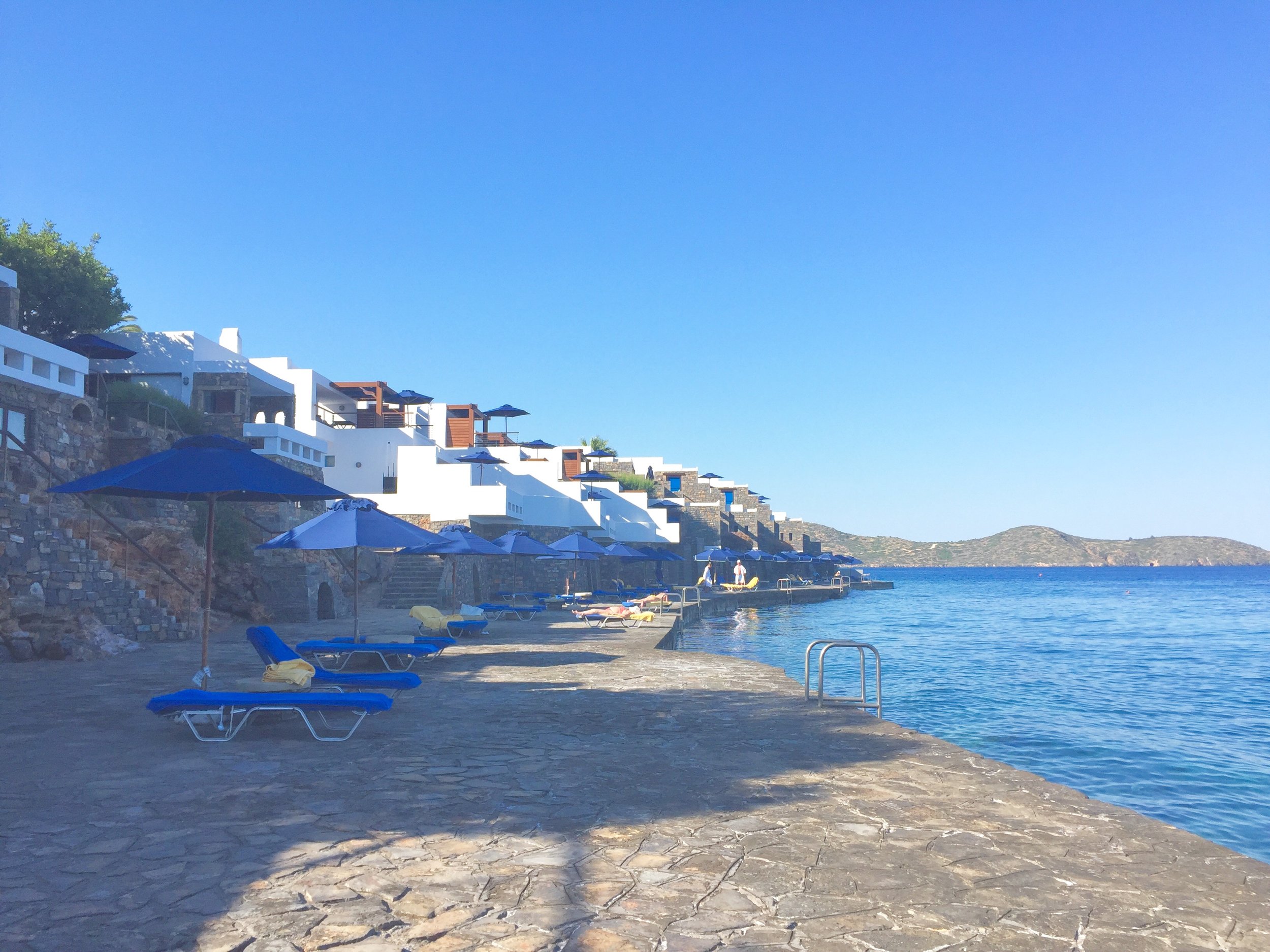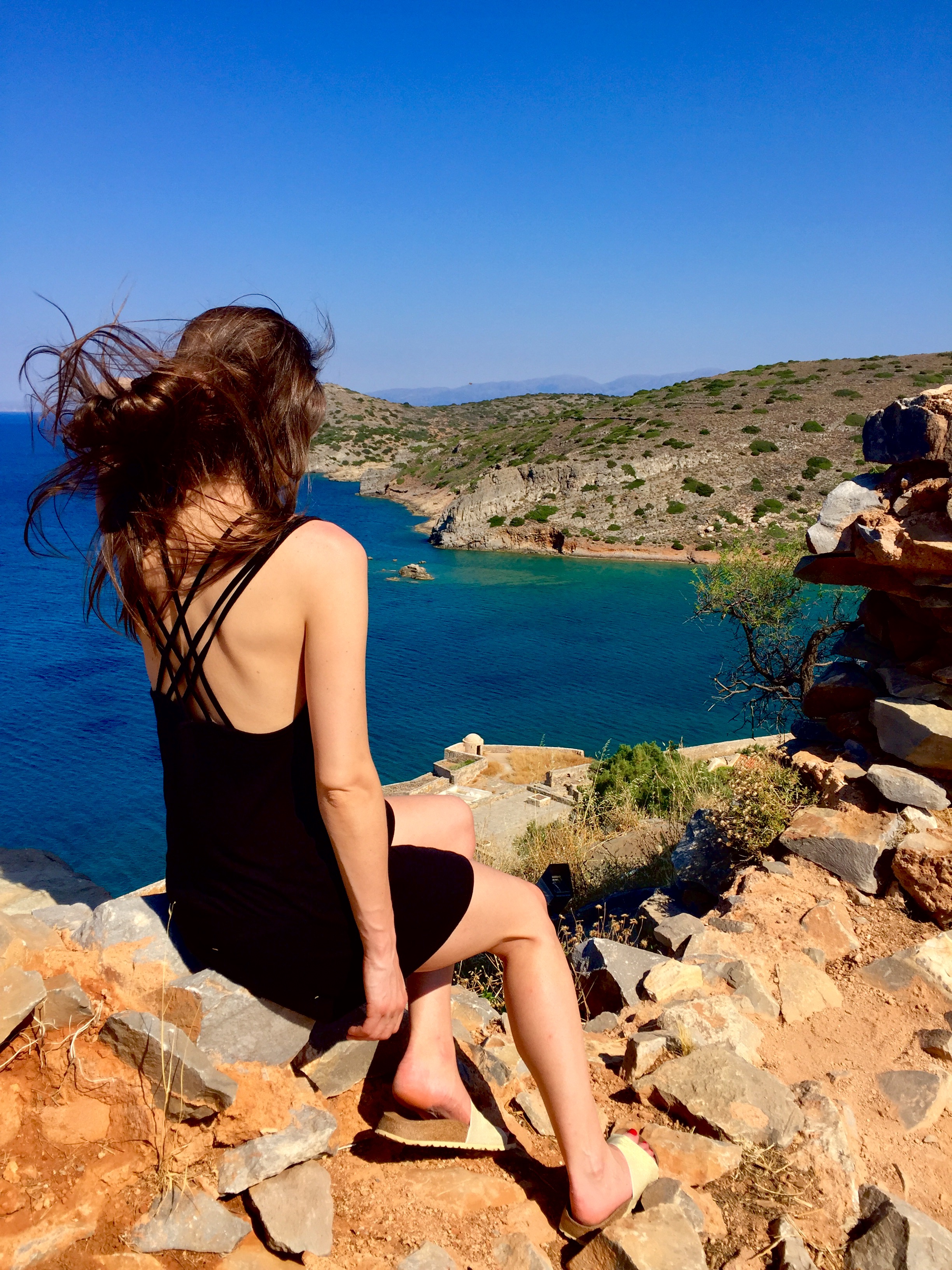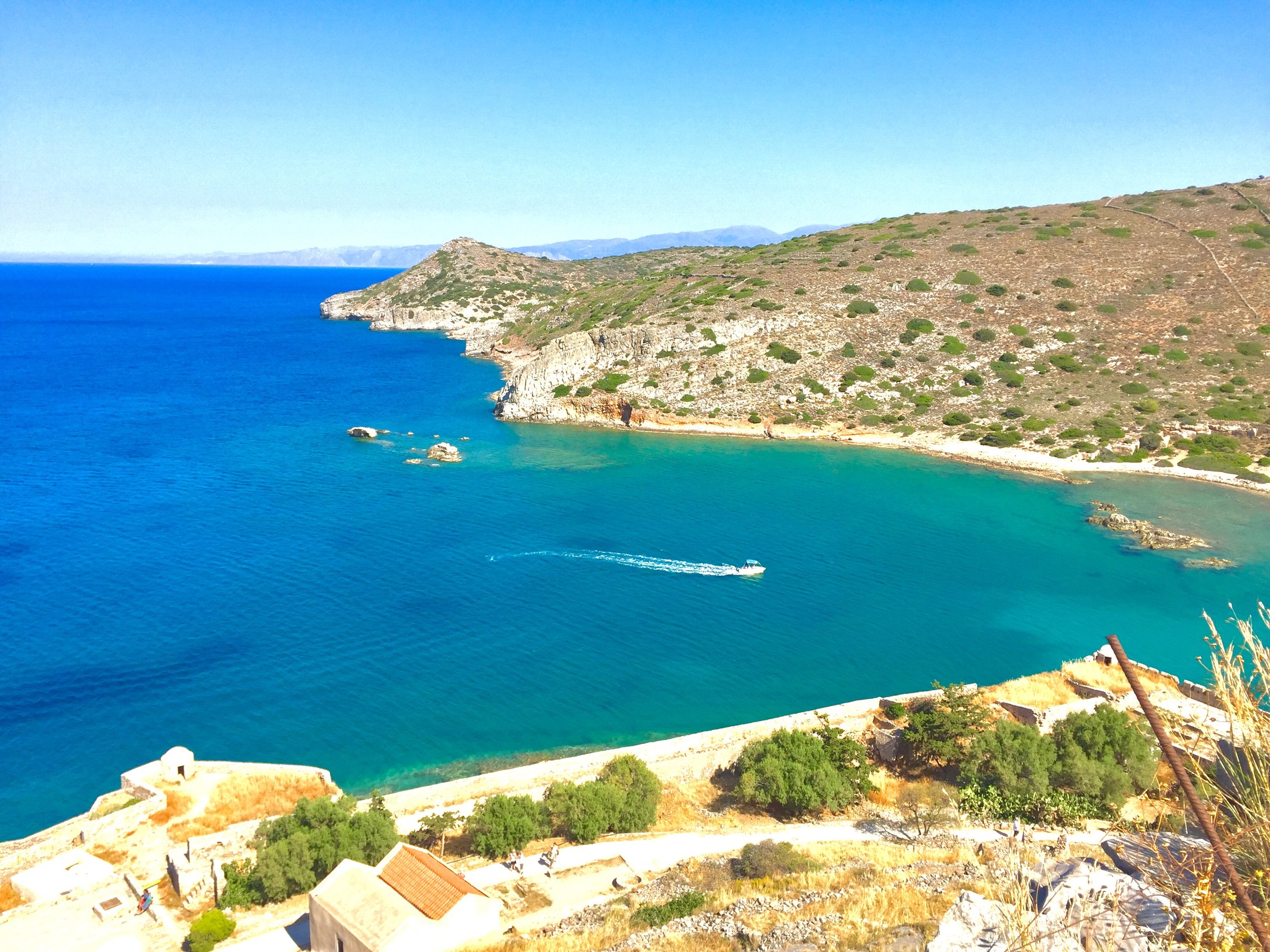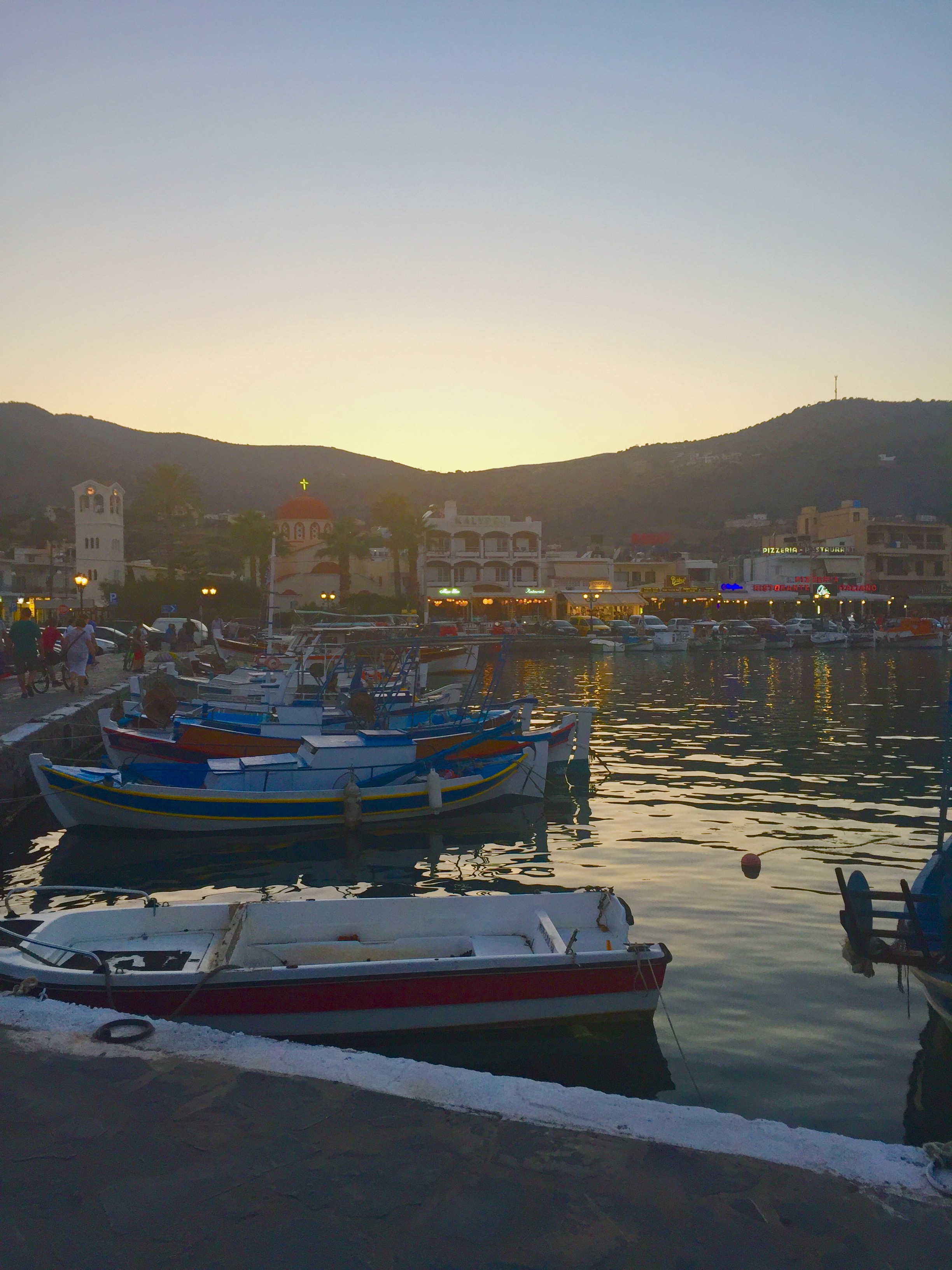 Escape to Crete and get lost in Greece's largest island. This destination has an authentic character from a high population of locals to buildings that are rough around the edges. The charm of Crete extends beyond its people and structures. The restaurants and shops are not as tourist centric as many of the surrounding islands. Europeans frequent this pleasant hotspot, many purchasing vacation properties.
Nestled in the vast island of Crete is a luxurious called Flounda. Renting a car is worth the while considering transfers are costly and are an hour from the airport, and as a bonus it makes the surrounding neighbourhoods super accessible. Agios Nikolas is the major town and a bit north is the miniature quarter called Plaka. Both are quaint and very affordable options for lunch and dinner. For 30 EUROs you can satisfy two people with wine included. Our favourite was called "Hope." It was hidden within a small village and overlooked Flounda's beautiful bay. In Flounda, Ferryman Taverna, a pricier option, and Olondi boasted unbeatable waterfront views. In Plaka, Giorgios and Gordona delivered wonderful local eats with peaceful blue water scenery.
Flounda Gulf Villas and Suites
After tiring days of eating, walking, and touring we were treated to the five-star amenities at Flounda Gulf Villas and Suites. Four kilometres from town, this luxury, yet affordable, accommodation hosts a series of small buildings. At a glance the rooms seemed dated, but upon arrival you will notice light refreshments to make the atmosphere more contemporary and staff that elevate the lavish experience. They really delivered great service consistently, and were incredibly friendly and warm. Every morning we were greeted with a bright-smiled "good morning." Breakfast itself was a beautiful buffet with eggs and crepes to order and Greek sparkling wine. There is a true familial and warm feel all around. Most visitors were European middle aged and lots of families. Although, we never saw our neighbours from the privacy of our spa suite. You could sunbathe nude for sure on your patio and no one would see. The relaxing room has two levels and the bottom floor has a massage table and a steam room so you could have treatments in your room. As if it couldn't get any more calming, we had a really private terrace with a pool.
Although the hotel is not directly on the water, they offer a free shuttle to the beach – although most people drive themselves. Like all the beaches in Crete, the shore is a mix of sand and rock. It was usually very quiet and there were always plenty of chairs. The hotel also offer onsite transporation. They take you by golf cart to your room because the resort is STEEP I am talking like 45 degrees straight up. They have a LOT of golf carts on property and anytime you are leaving anywhere they ask if you want a ride so people with mobility issues really would be fine.
The hotel is about 4 km from town, and being walkers we walked in and out the first couple of nights. The first, we were jet lagged so we ate dinner at around 6 and walked back when it was still light. The second night, we were drinking more because people kept offering us raki, so didn't really notice but the walk is somewhat dangerous in the dark! There were long stretches of road with no light, and it's basically one lane so you could quickly see how easy it would have been to get run over. After that we elected to take taxis home. There was a taxi stand in the main square in Elounda and you could always get a taxi and it was an 8 EURO ride. The taxis are mostly Mercedes and the drivers all speak English. The main tourist attraction is Spinalonga, an old fortress turned leper colony a ten-minute ferry ride from Plaka (can be accessed directly from Elounda and Agios Nikolas as well). It makes for a fun couple of hours to go explore, we hiked to the top for amazing views. Otherwise we didn't do a whole lot- we went to see Zeus caves and it was a 3-hour excursion for ten minutes in a cave with bats where Zeus was mythologically born- don't do it. From what I understand there is a lot to see in Crete, but from Elounda it is far to get to. You would have to stay in different areas or do looooooooong day trips (like two hours each way) to see the sites near Heraklion.
Naoussa, Paros and Antiparos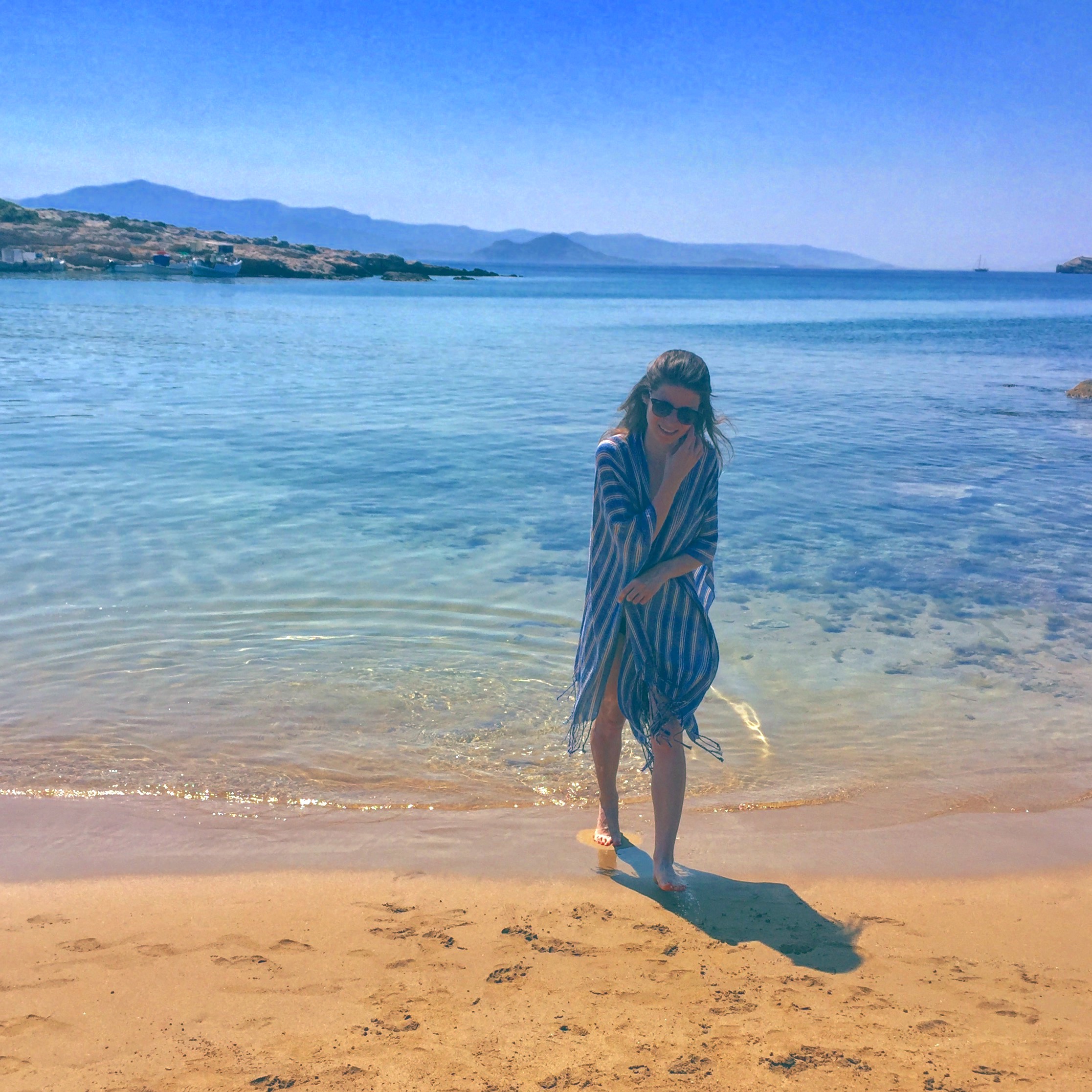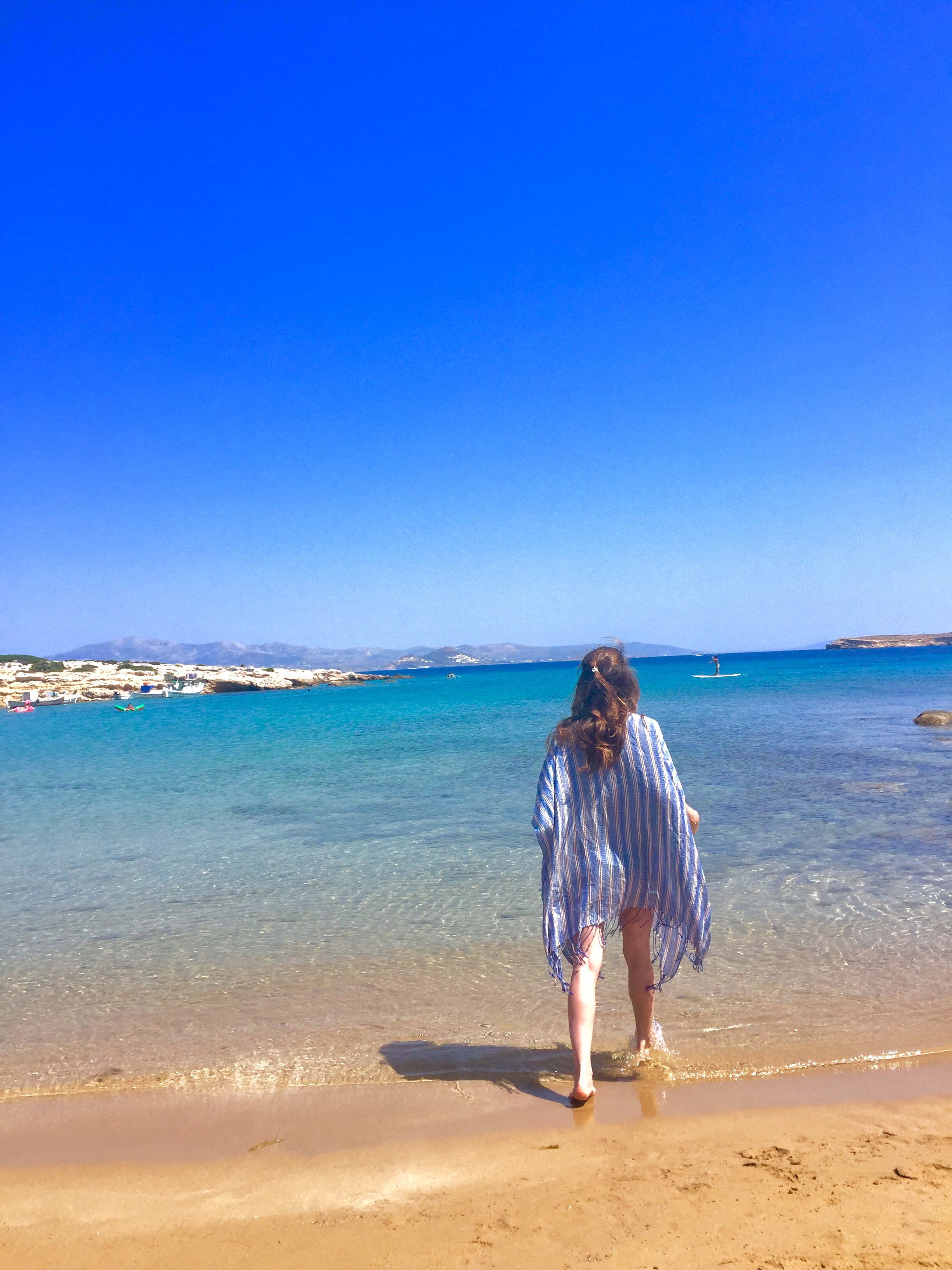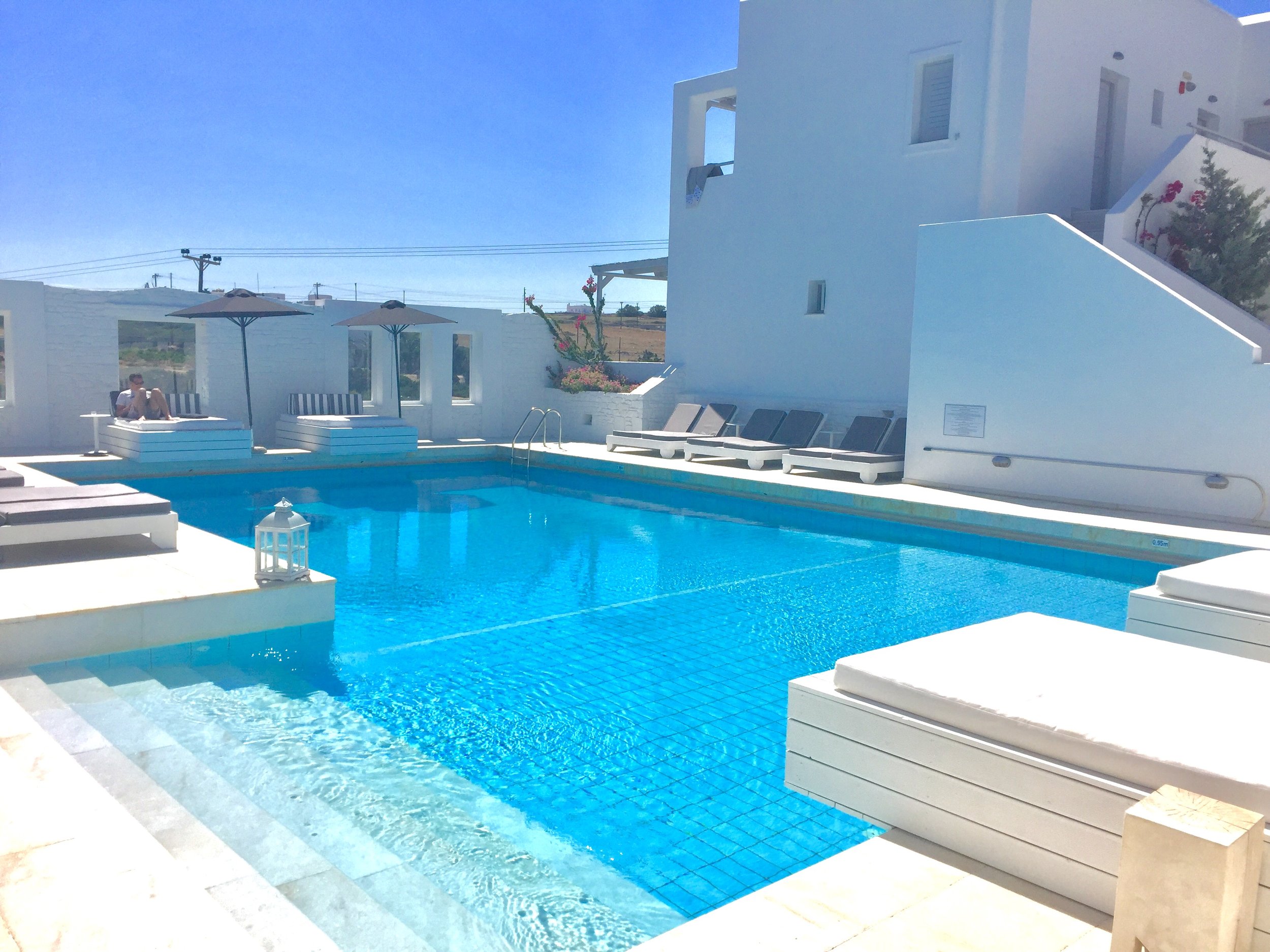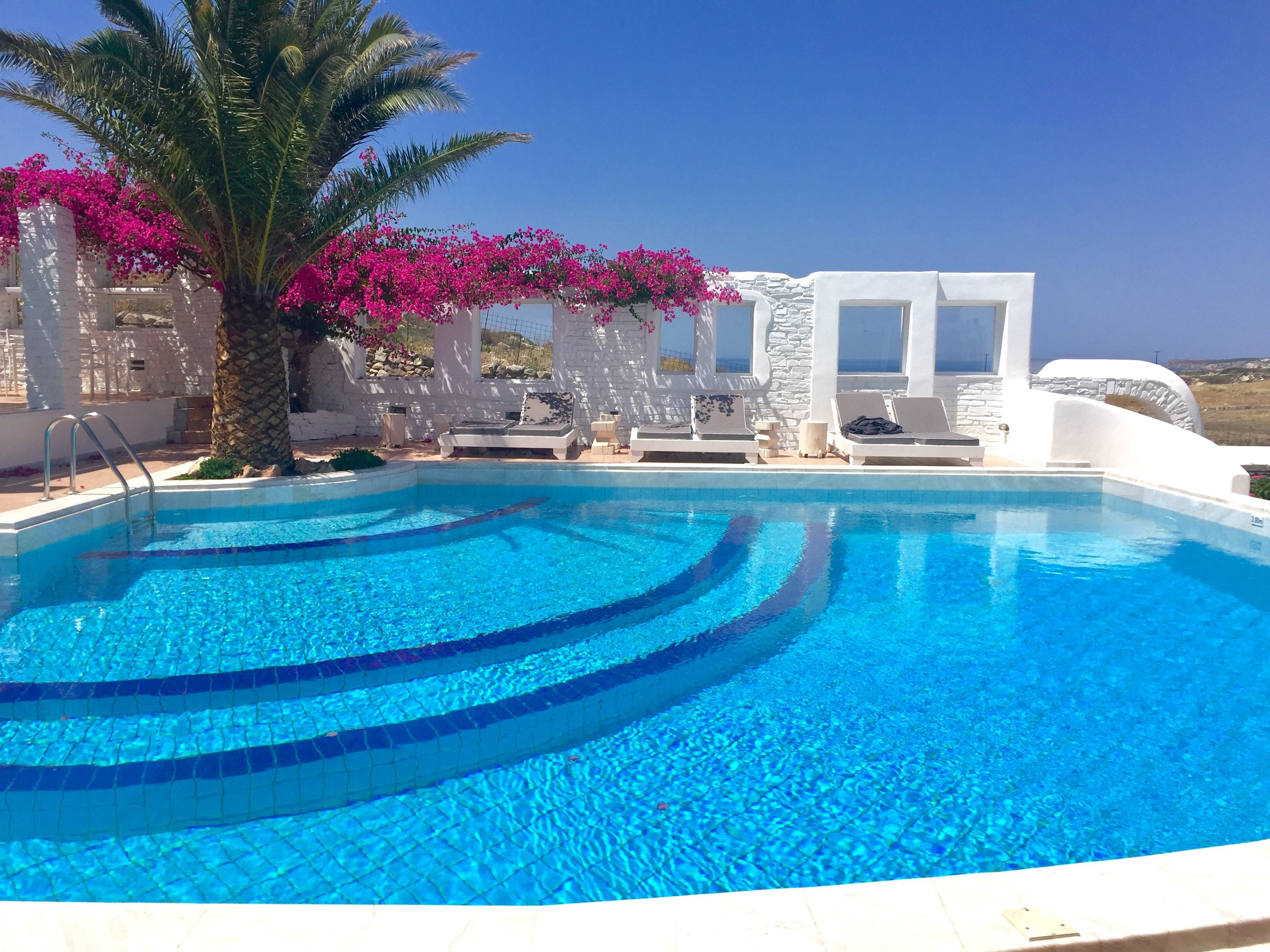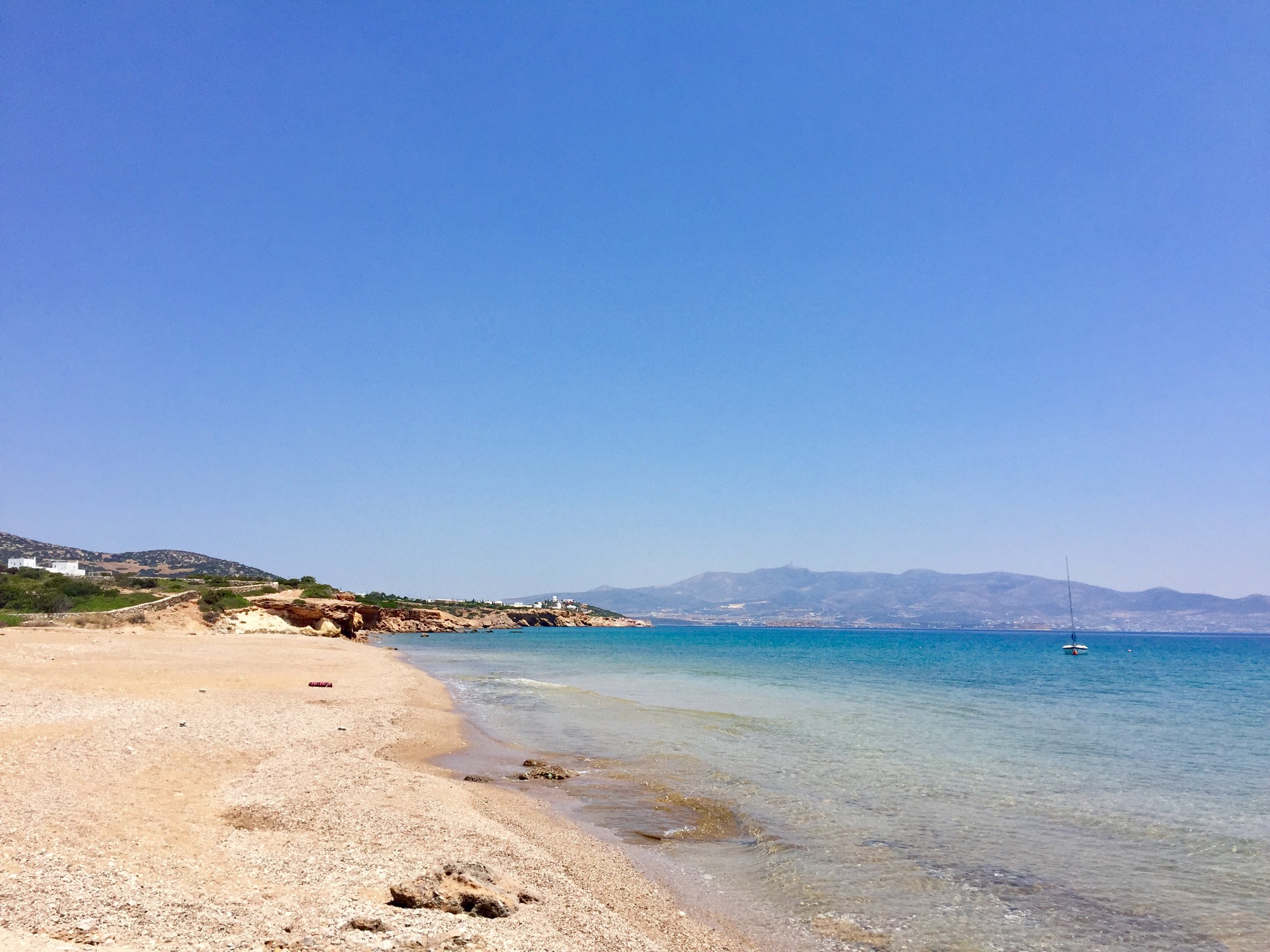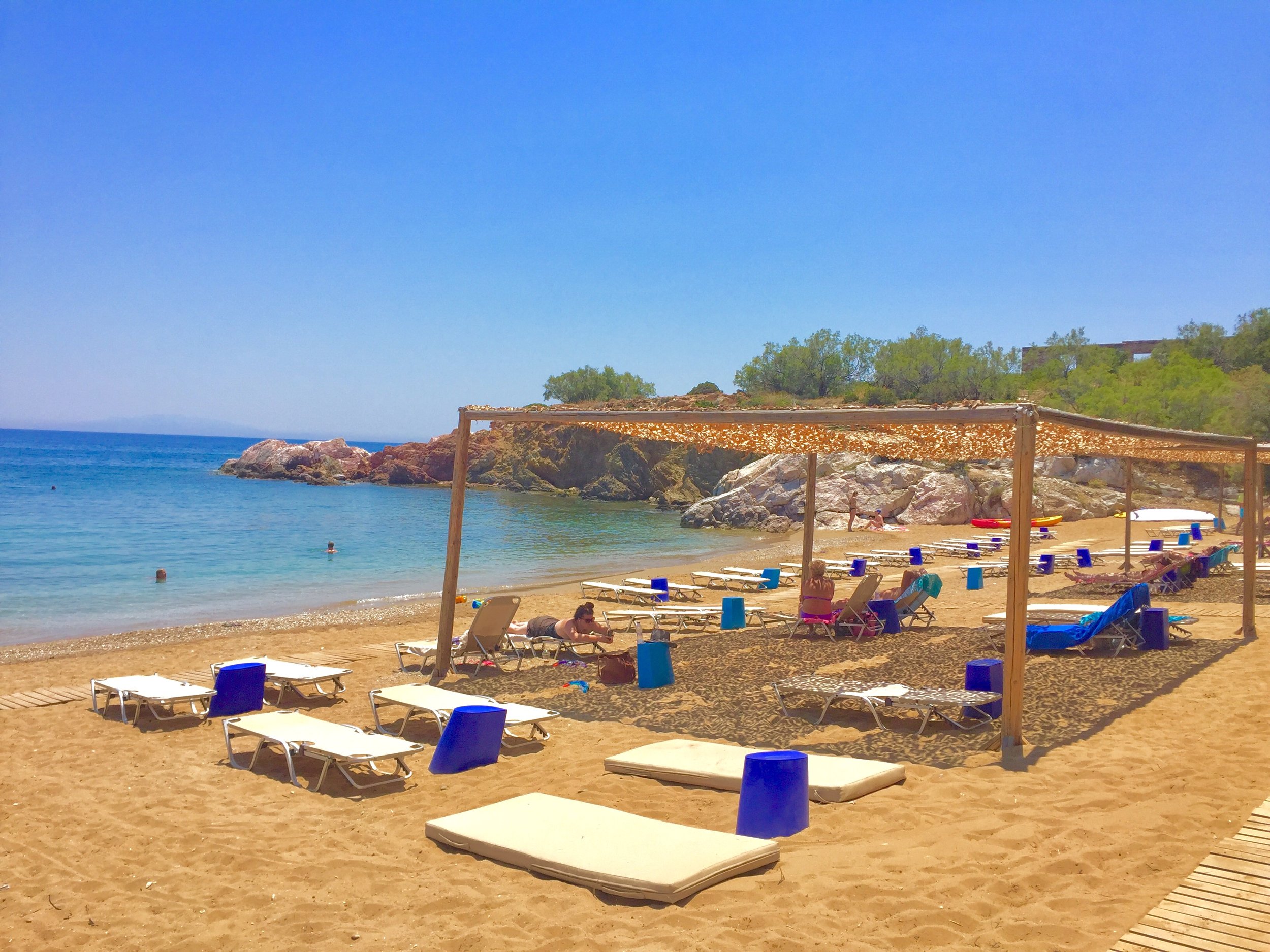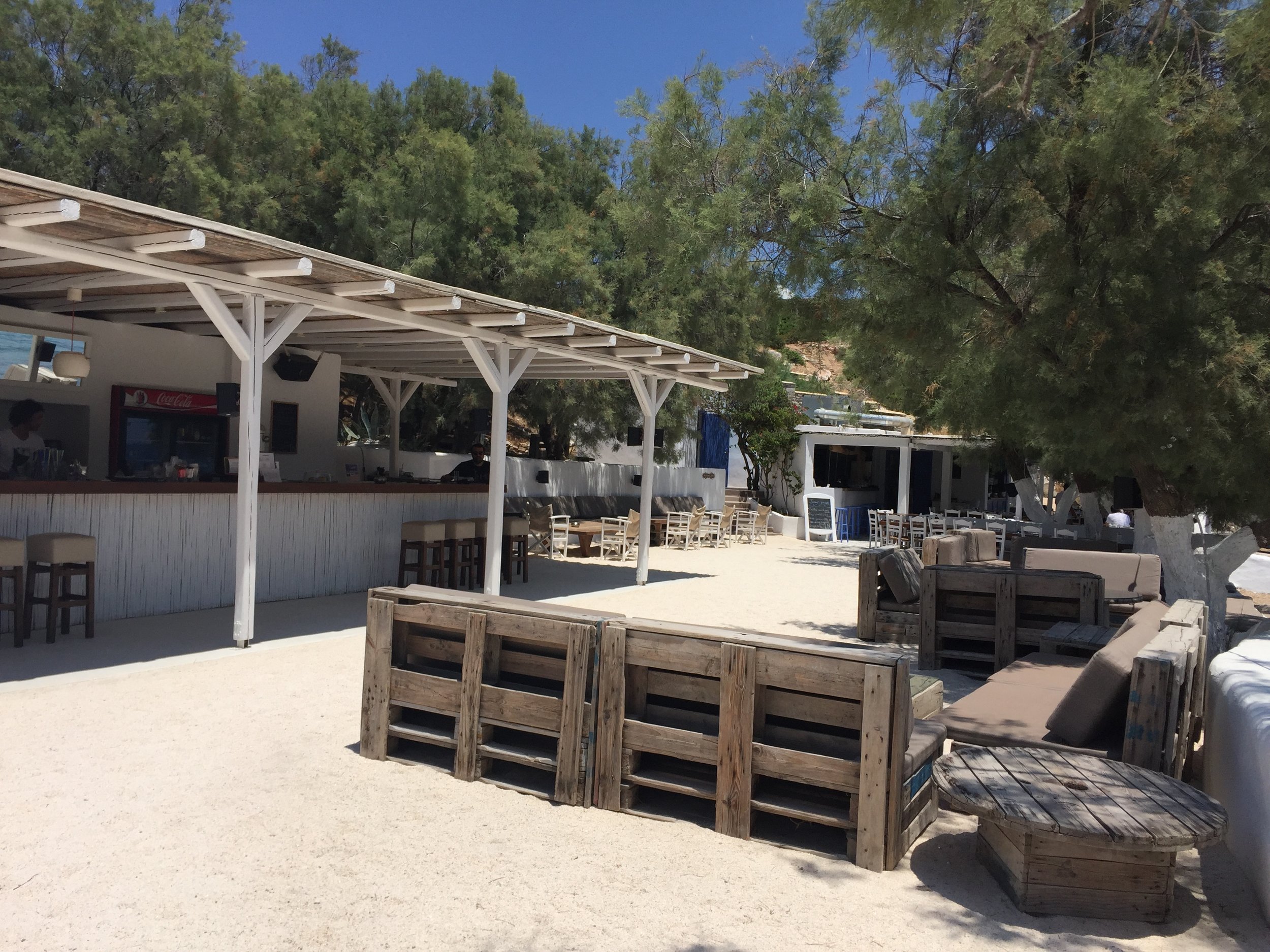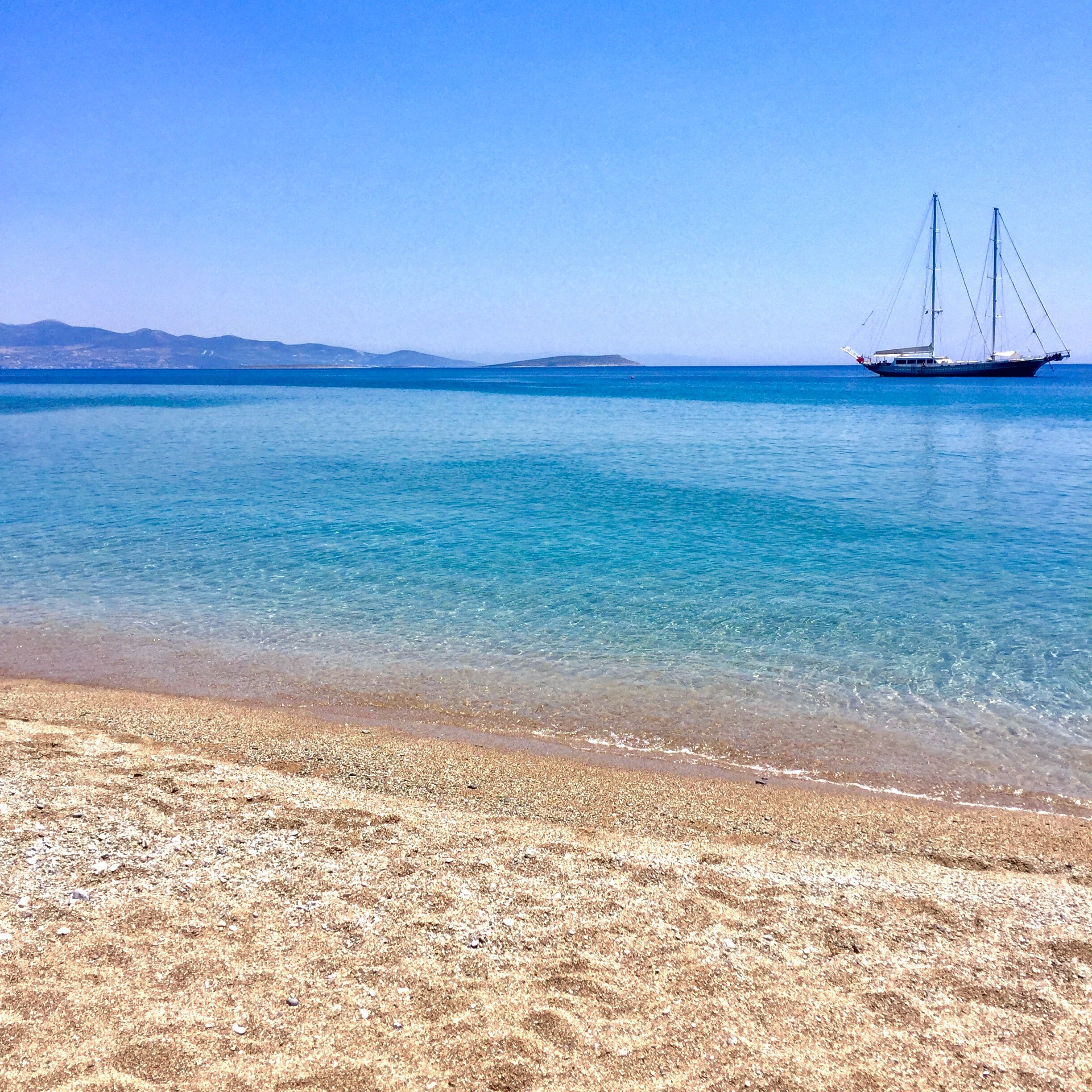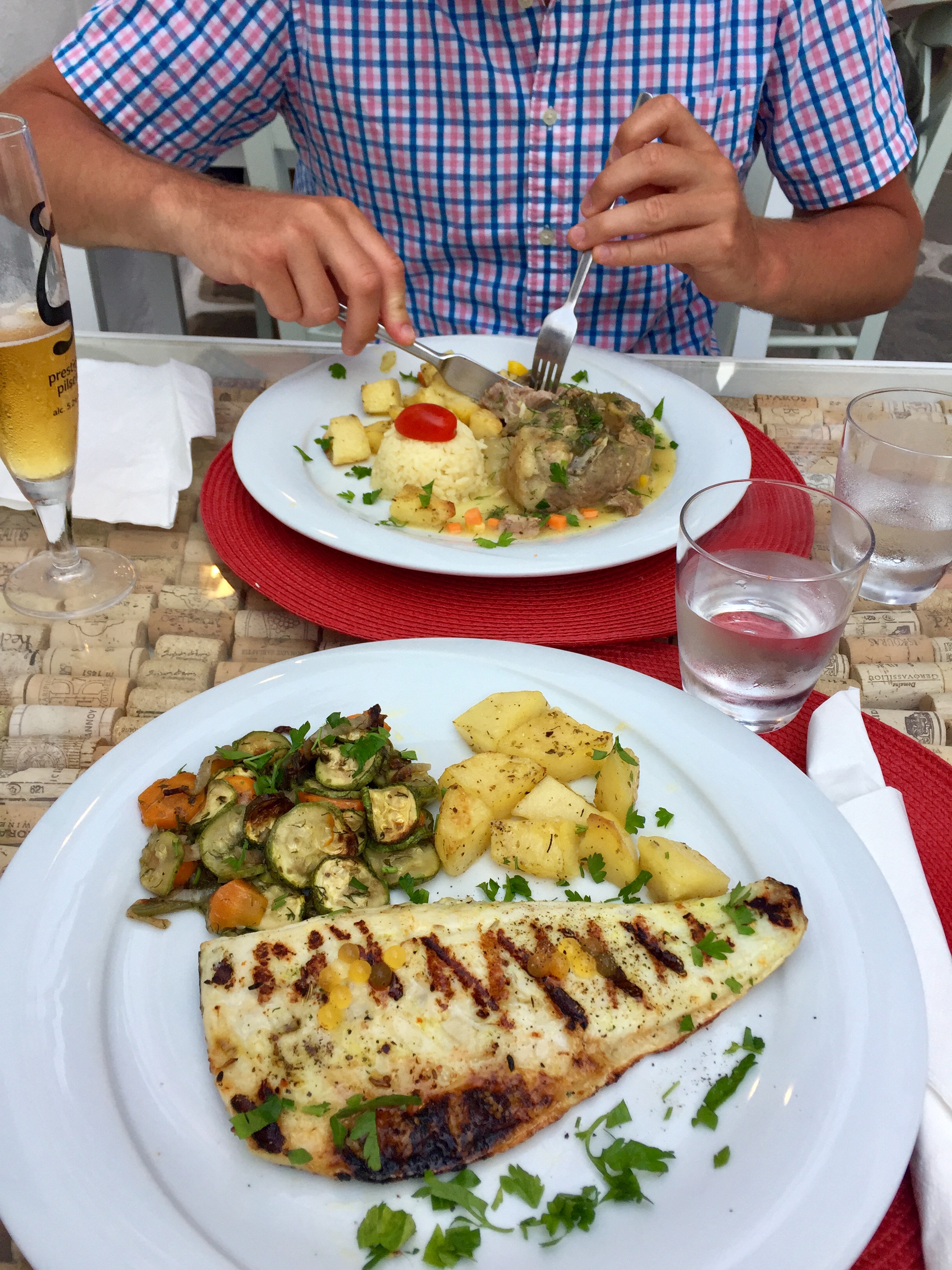 Naoussa is a BEAUTIFUL fishing village on Paros, one of the largest islands in Greece. Naoussa itself looks so much like Mykonos - I really felt I had been there before. It has the typical white buildings with splashes of blue and pink bougainvillaea. It was definitely the most beautiful island we went to this trip. The shops are upscale- beach cover ups designed by local Greek fashion designers cost from 50-200 EURO. We made friends with a Greek girl who told us the island almost completely shuts down in the winter so it is a tourist island, but not in a bad way at all. I imagine this is what Mykonos felt like 20 years ago. You can tell tourists are starting to come - this is where we saw the most American backpackers. Go now, it will be ruined soon! If you do want to beach, the nicest is Santa Maria, about ten minutes away by car, it was the nicest on the island, very local, lots of Greek families. We did a day trip to Antiparos and it was really a special place. You take a ferry which takes about 10 minutes depending on where you get it, and you can bring cars or motor bikes with you. We rented an ATV for 25 EURO and brought it with us and it was very easy. Ferries depart every 15 minutes or so, and you can't buy tickets in advance you just show up. Antiparos has the same look and feel as Paros but on a much smaller more charming scale. People we spoke to were surprised to hear we were Canadian because they said not many people from North American come there. It's definitely becoming trendier, I think Madonna recently went, but it is rarer. It is only accessible via Paros and makes for a great day trip or even a couple night stay. I think the fact that it is so remote is part of the draw. There is one hotel that looks nice for younger travelers it's not super luxury but it is pleasantly quaint - the beach house Antiparos, and tons of stunning villas. Paros itself is connected via air service only to Athens but has decent ferry connections to the Cyclades and many smaller islands such as serifos. We had the best meal of our trip on Paros, at a restaurant called Soso - we both still dream about it.
Mr and Mrs White Hotel
Although this property isn't luxury by any means, it is certainly a warm and nice stay. It was a hotel before, but changed ownership and opened under a new name after renovations. There are two buildings: the older one is closer to the water - it had more renovations and is considerably nicer. The second building is newer so they didn't renovate as thoroughly. The one bedroom suites are the nicest, and actually have two bedrooms, so can very spaciously accommodate a family with one child and probably an infant as well. These are the ONLY rooms that have real bed frames. It is traditional in Greece to have a mattress on concrete platform that is raised above the ground. We both found this very uncomfortable. The hotel is mainly with features such as original marble flooring in the open air hallways - which I loved. There are two pools, both with marble decks and white daybeds some hanging over the pool. The staff are all very friendly. The property is about 2 km from Naoussa, an easy walk on well lit busy roads. They do not have a beach or beach club but to be honest I didn't miss it. I didn't find the beaches in Paros to be particularly beautiful, and I really liked the pool! Breakfast was a buffet, there was nothing to order except coffee, but was more than fine. They also packed us a breakfast basket because we left there early. The hotel is ten minutes from the Port and maybe 25 from the airport. The transfers are not that expensive and you really don't need a car while you are there so we just rented the ATV when we wanted to explore and that was really easy to do.
Island of Rhodes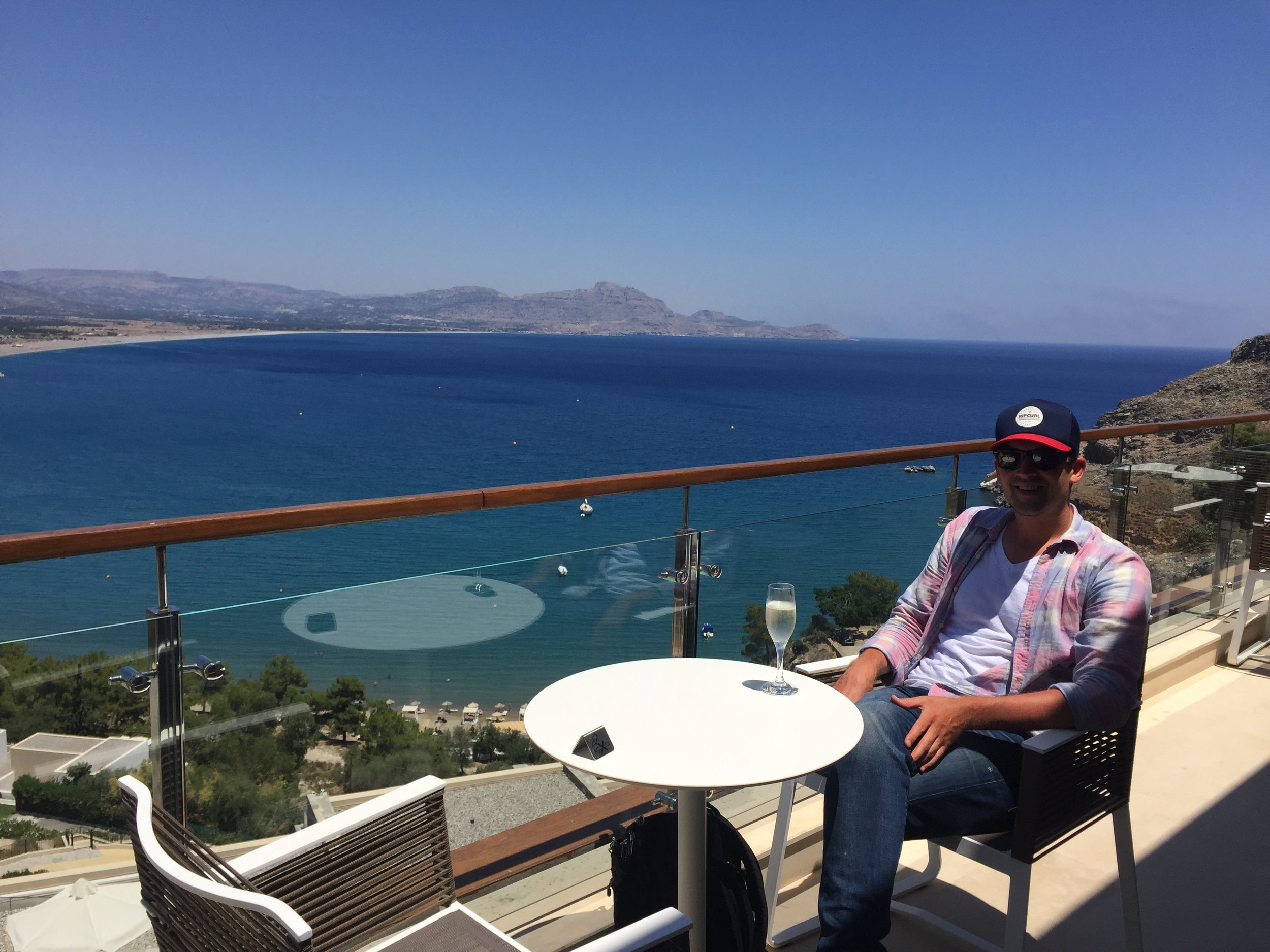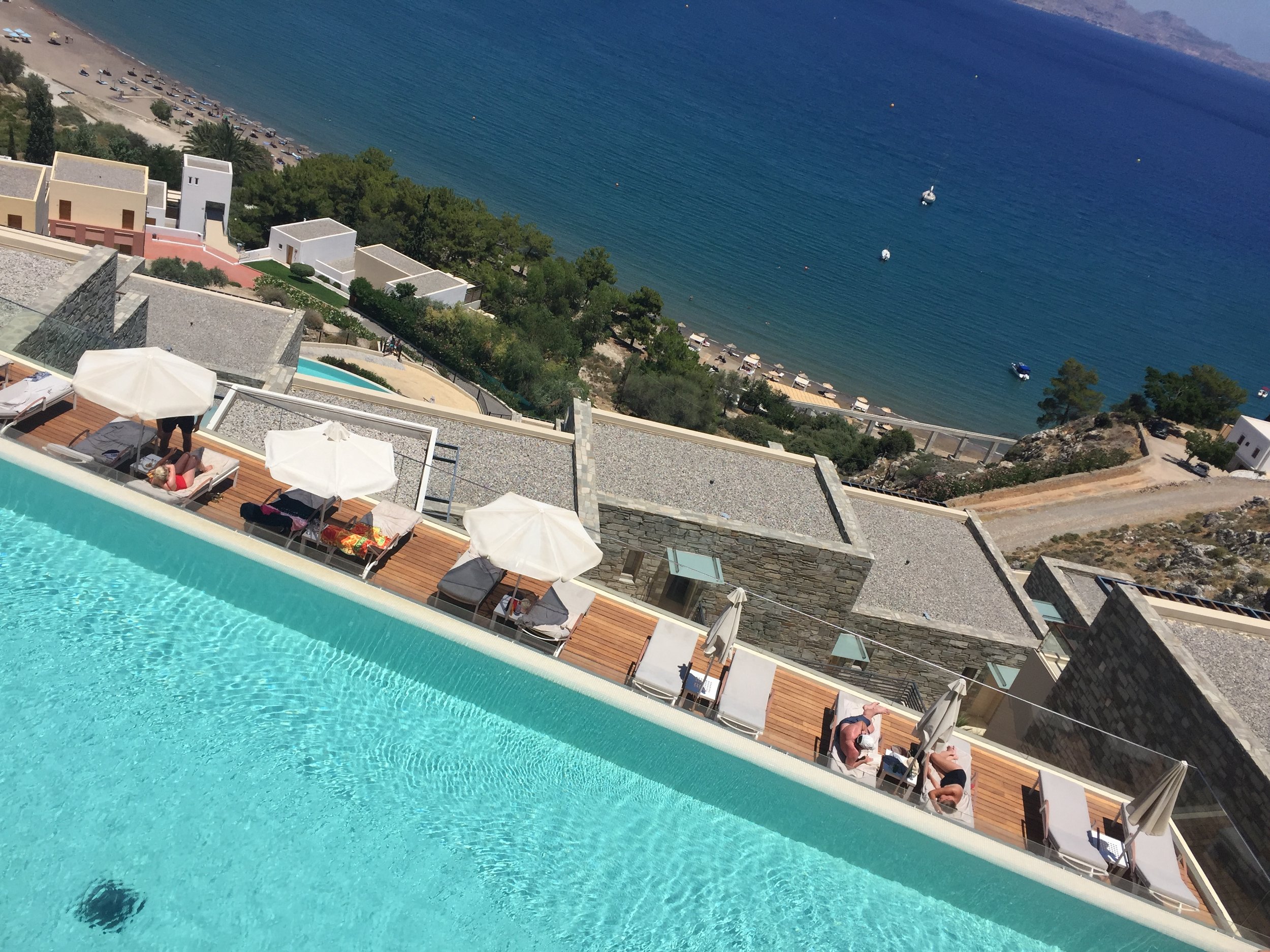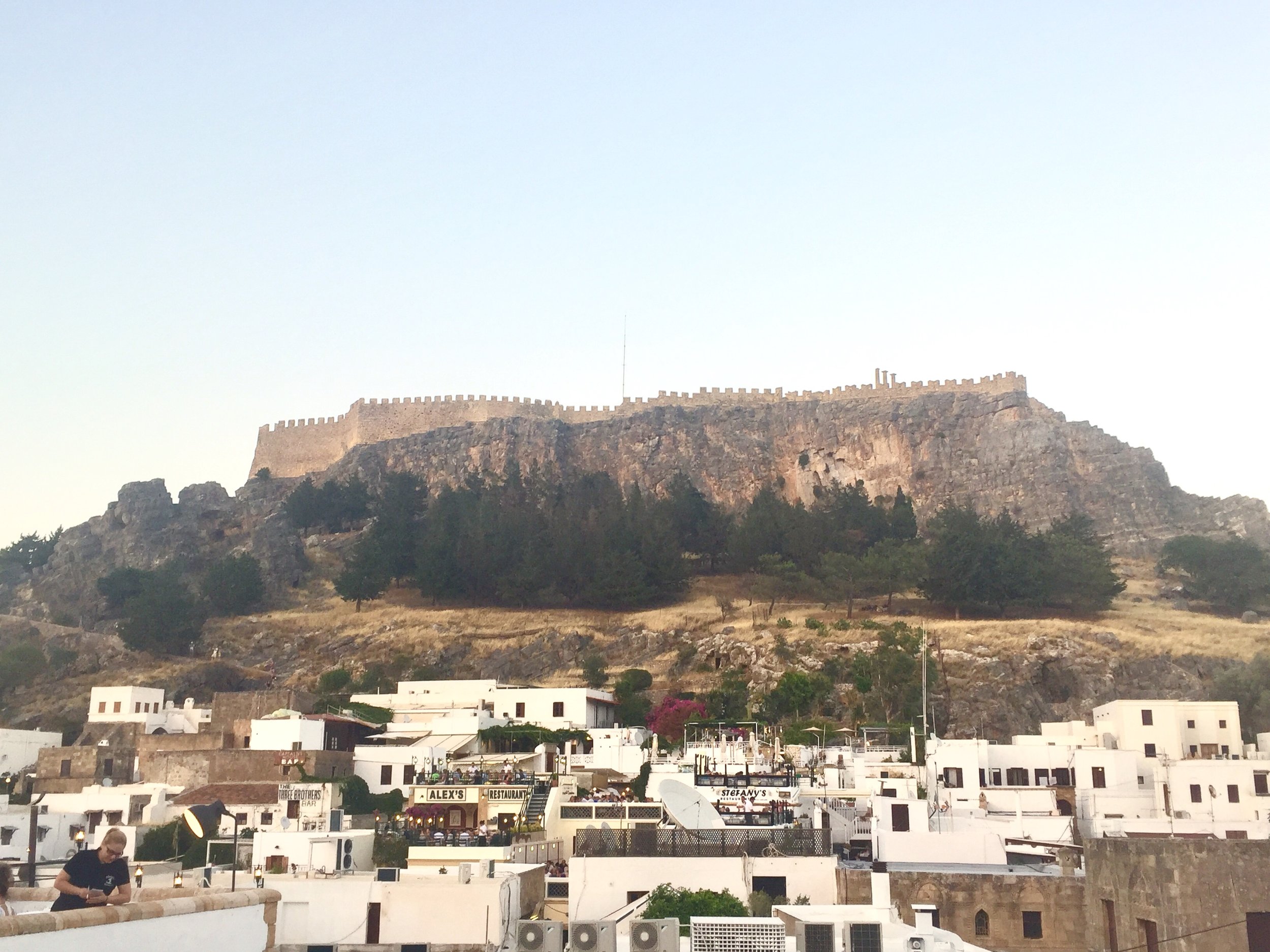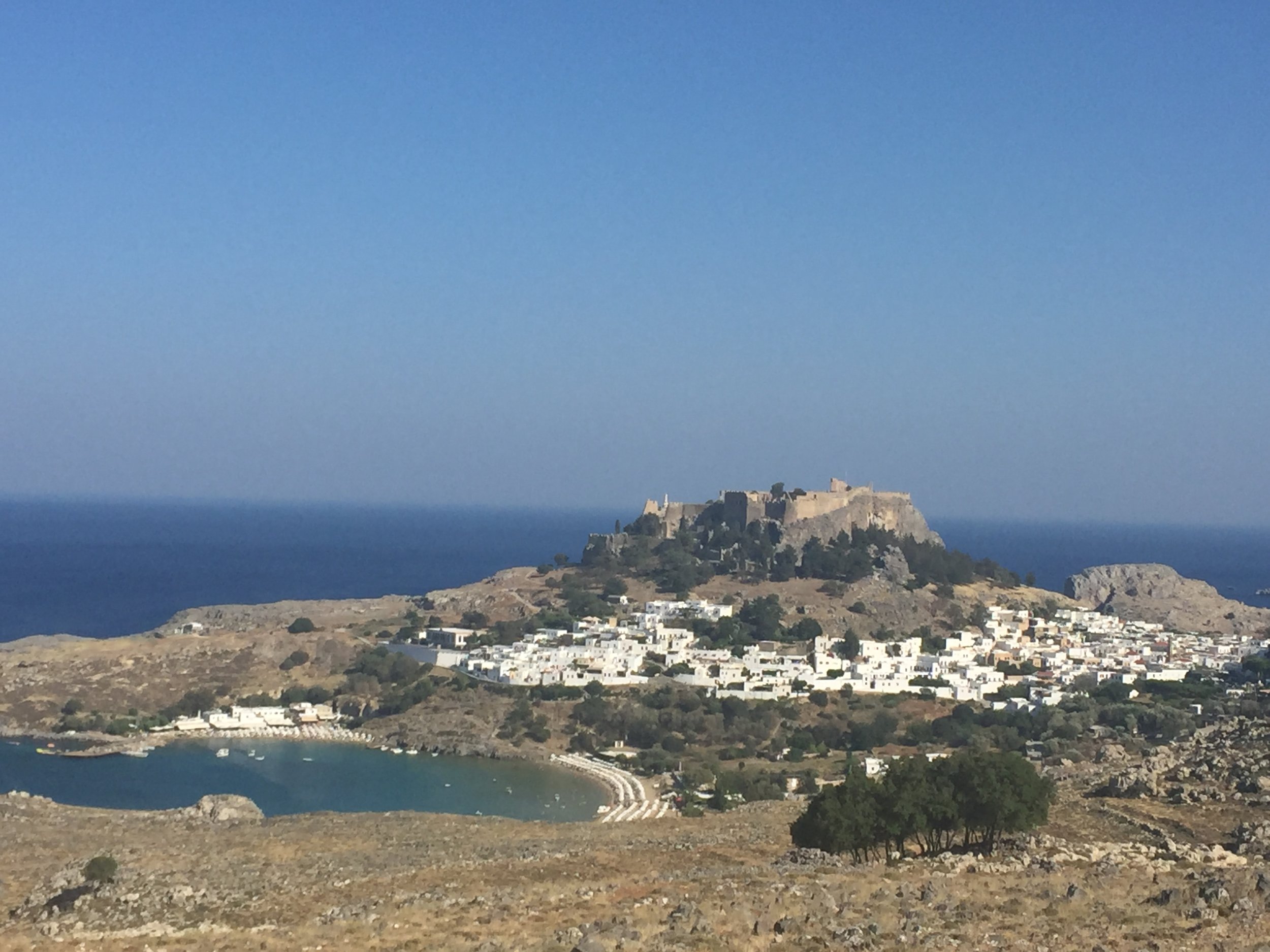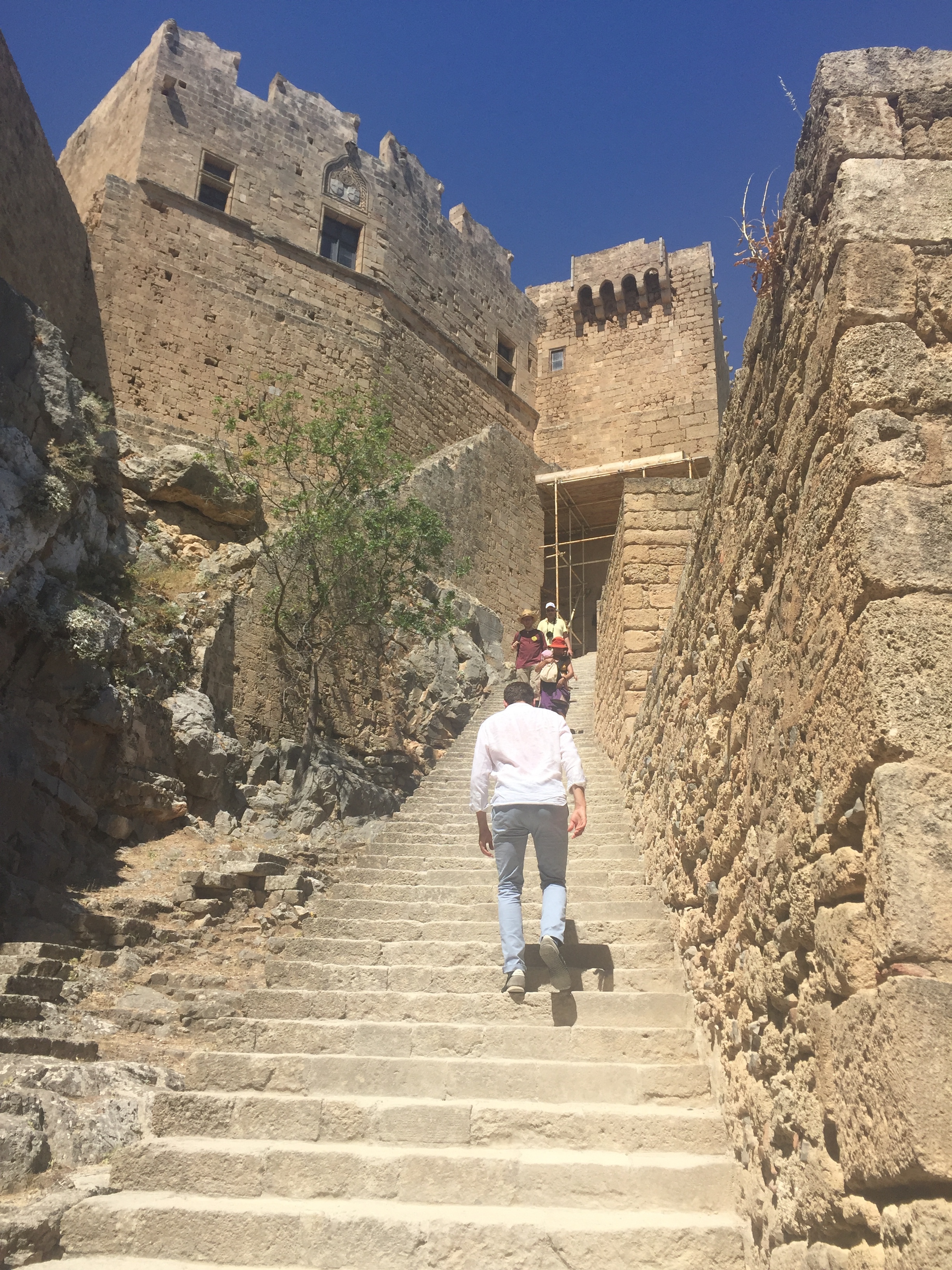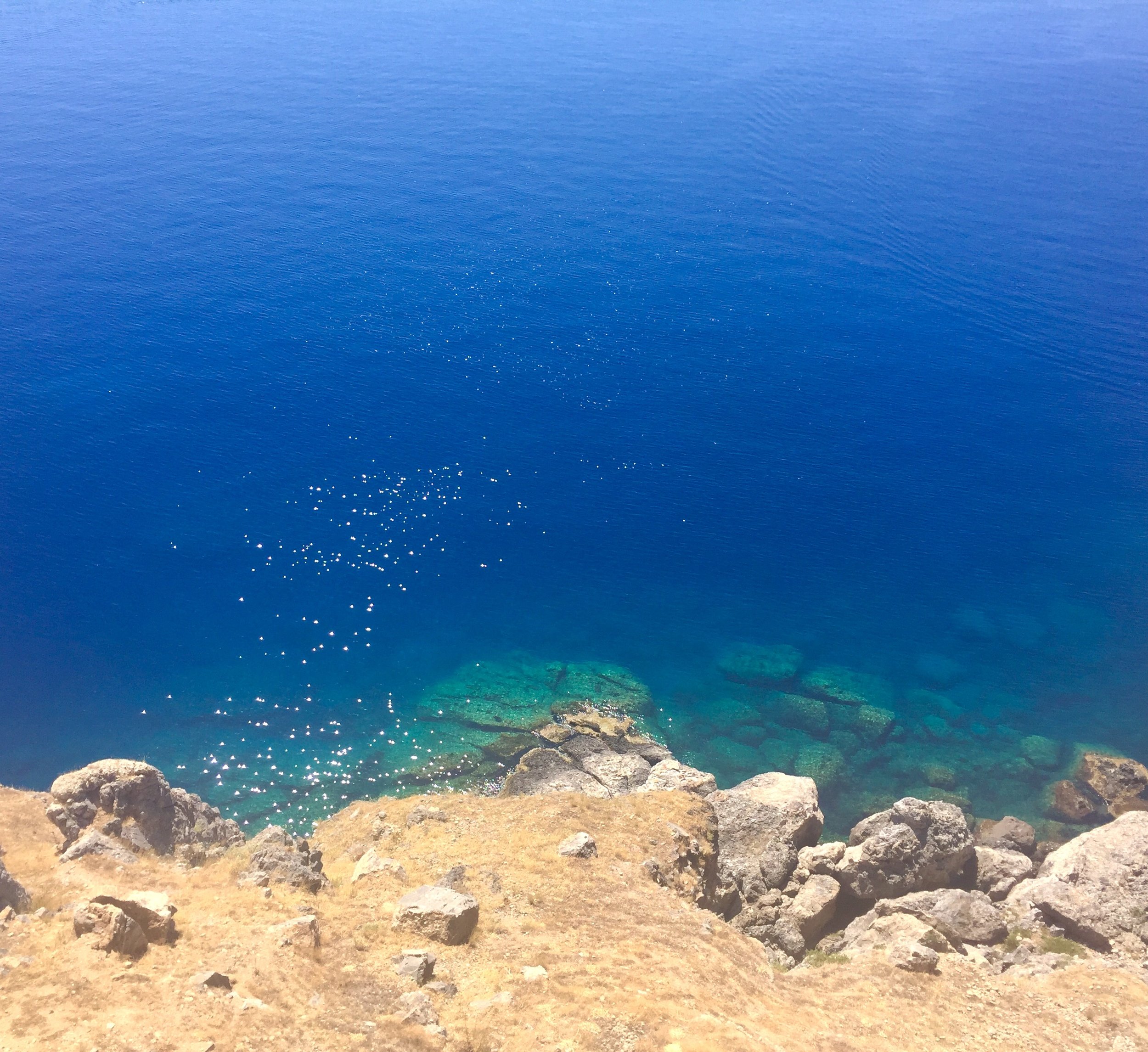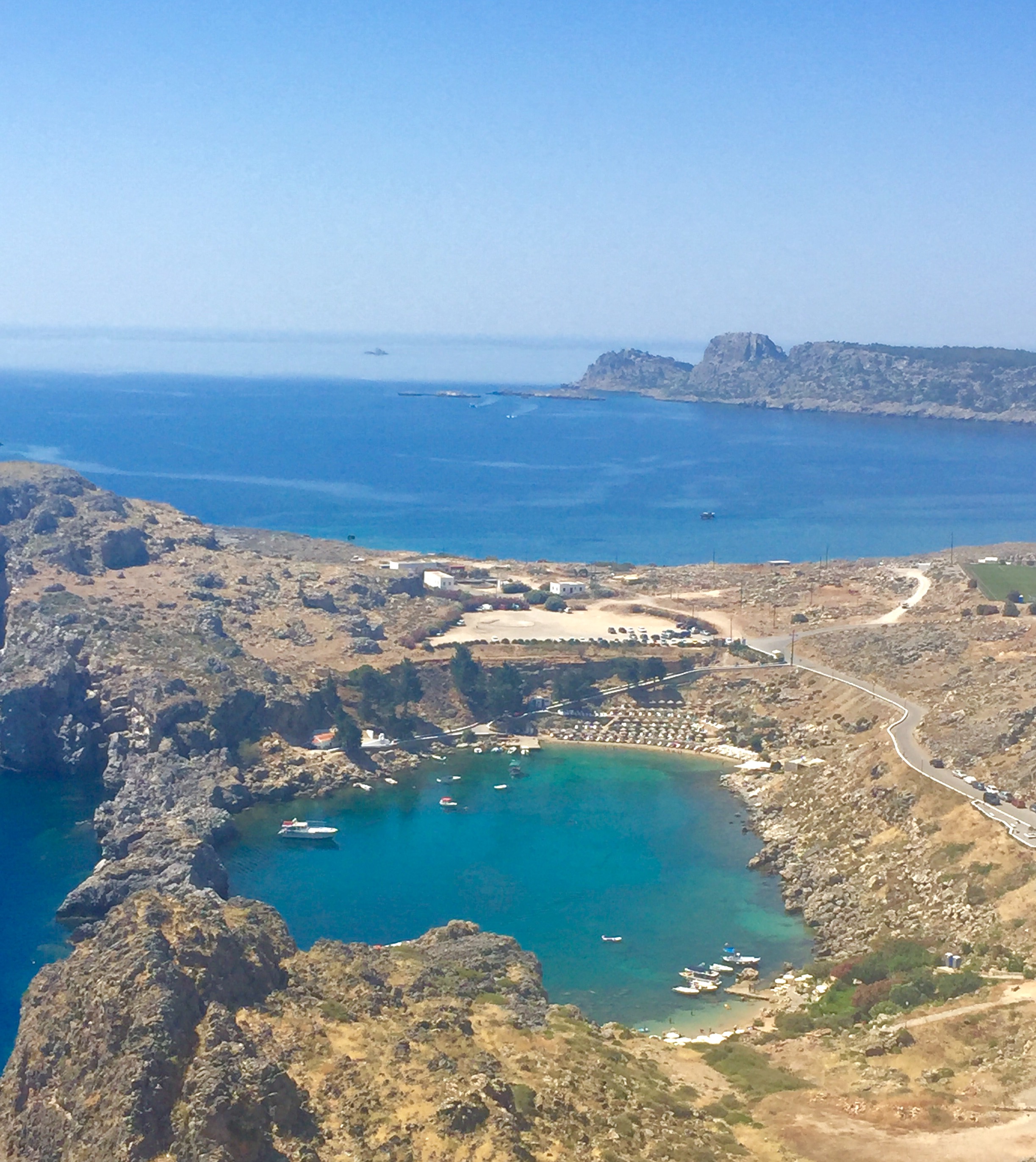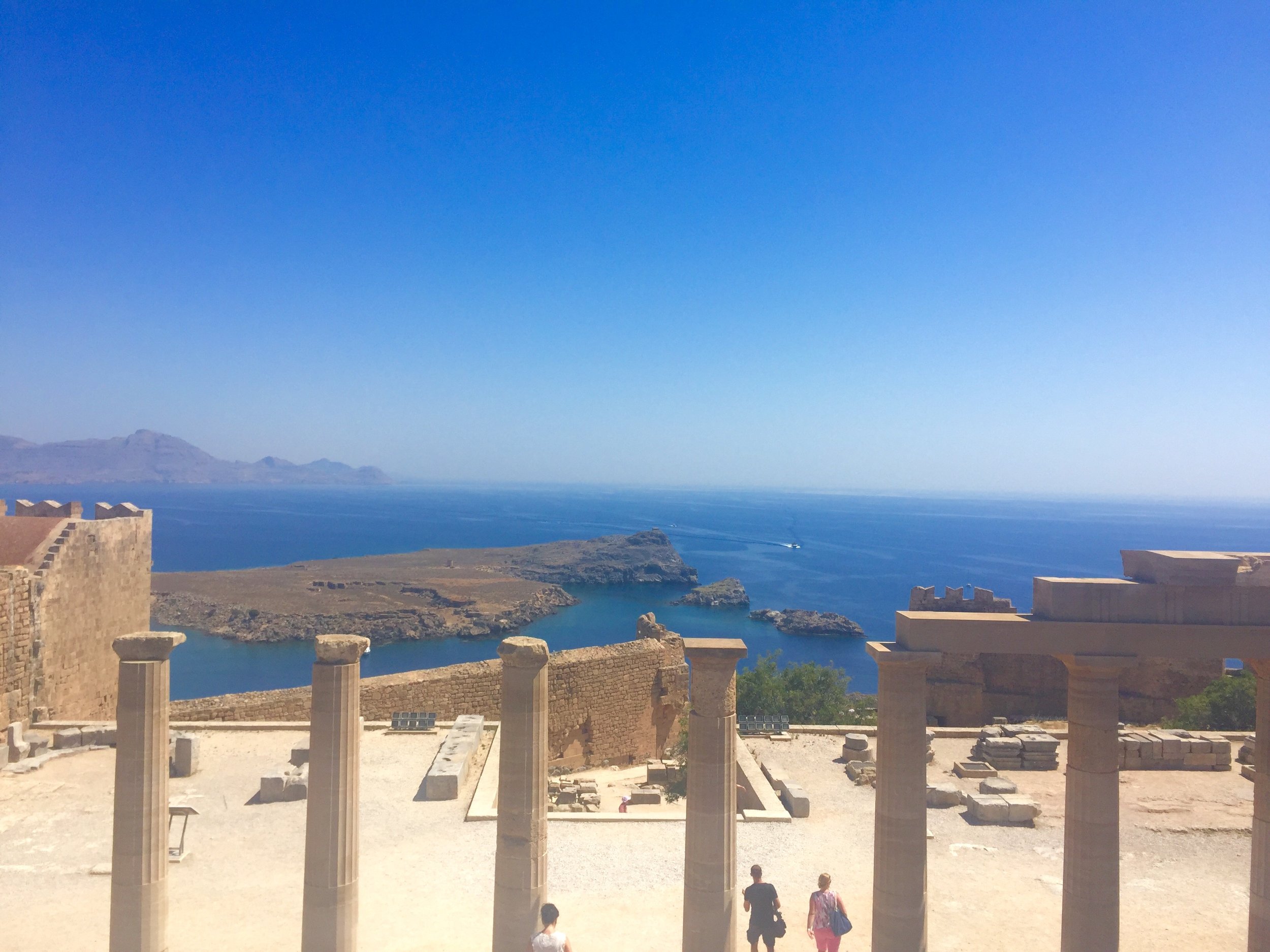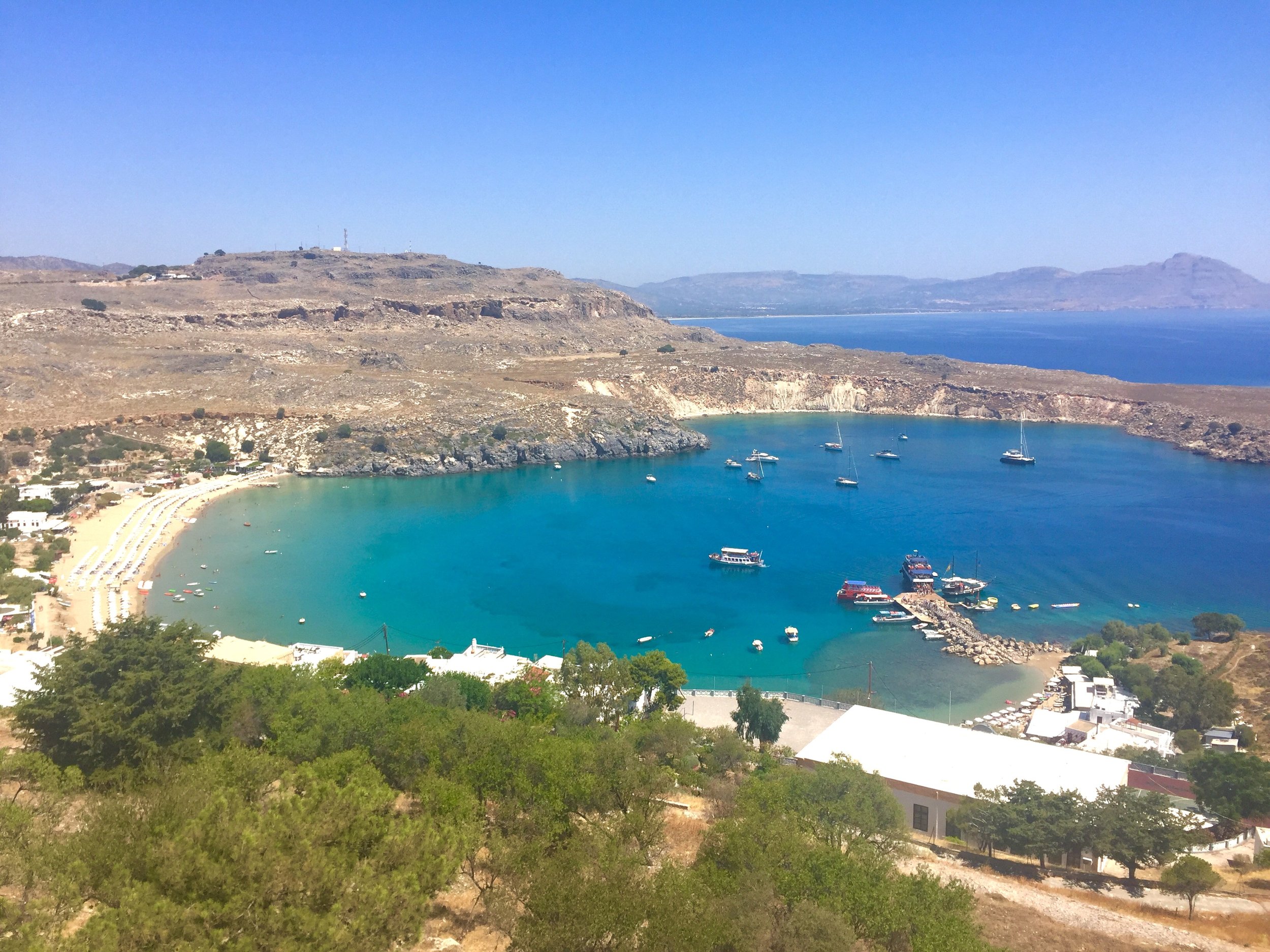 Part of the Dodecanese islands, Rhodes is about 20 km from the closest Turkish area. I thought there would be more middle eastern influence but there was less than I was expecting. We did have some hummus but it wasn't very good so I suspect that was more because it was trendy and less because they actually eat that there. I was excited to visit an island outside of the Cyclades but it really wasn't all that different at all. The airport is well connected with many major European cities so it makes it easy to connect without flying through Athens – although it the most unsettling airport I have seen in terms of cleaniness and function. It was the one time in my life I waited for the plane washroom instead of the other way around. Lindos is about an hour drive with traffic from the airport. Transfers are 75 EURO each way so it made more sense for us to rent a car and I would recommend that for anyone who is comfortable driving. Most of the hotels seem to offer complimentary parking. The hotel is about 2 km from the town. We took a taxi home for 6 EUR, also mostly Mercedes, that are plentiful at the main entrance to the town. Other nights we drove. It is pretty hilly, so from the free parking you are looking at about a 5 min walk on a 45-degree incline, you can bypass this by taking a taxi, or there is pay parking about halfway down. Lindos is a pedestrian only town so after the main entrance you are on foot. They do have donkeys as well, offering to take people up to the acropolis, which is the only super hilly part of the town. The Acropolis predates the one in Athens and can be seen from pretty much anywhere in town. It is quite beautiful driving in and seeing it towering above the white building and the beach. If you do want to visit the Acropolis it's about a 10-minute walk up, and entrance is 12 EUR per person and try to have exact change. We probably spent 30 mins up there, but could have stayed longer if it wasn't 35 degrees. Typically, it stays open from 8 AM to 8 PM. Lindos town is pretty tacky during the day. It is trashy touristy with tacky gifts, beer singlets, knockoff bags etc. Our hotel actually told us not to go in the day because it is overrun with day trippers from all over the island and they were correct. At night, there is a certain charm to it but it definitely is not the white washed Greek town you picture like Mykonos or Paros. The restaurants all have roof gardens, three or sometimes 4 four stories up and you are underneath the Acropolis with views of the water and it really was beautiful. Kalypso served cheap and excellent Greek food and you can go all out for 50 EURO total. Other recommendations include: Mavrikos, Ambrosia, Cesar Mezes Bar, and Melenos. The beach was one of the nicest we saw. The sand was the softest, but still nothing close to the Caribbean. The water is clear and gorgeous. The beach is obviously popular with tourists and locals because it is packed. Every inch has a sunbed and umbrella to rent and I think you would be hard pressed for some space to just lay a towel.
Lindos Blu Hotel
The hotel is traditional and 18+. They do have a sister hotel, Lindos Mare that is on the same property that is all ages, but is not nearly as nice. It isn't trendy by any means, but has all of the amenities you would expect from a five star. The hotel is a series of buildings built into a cliff. The reception area, at the road level, is mostly glass and offers amazing views of the sea as you walk in. From there, it is a series of about 4 elevators to make it through the hotel and down to the beach. This is NOT a hotel for people with mobility issues. It is possible to not walk up or down too many stairs if you utilize the elevators but you still have to walk between them because they are staggered down a cliff. All rooms are seaview. Rooms are slightly dated, not that anything feels old but it just isn't modern. We were in a junior suite and that was red themed so we had a red throw on the bed, red bed skirt, red curtains, red stool at the desk, and purple pillows . This was the only thing I didn't like, I think everything looks better in white and removing these items alone would have updated the room significantly. The staff are great and really try to get to know the guests. They Insisted that we have local sparkling wine on the patio before checking in. Macaroons, honey and spices and other goodies were left in our room throughout the stay and they even leave a gift when you are leaving. They gave everyone 1 L of water at the beach on ice when they sat down and left 1 L in the room each night which I always like. The managers greeted guests often in different languages. The servers at breakfast learnt our coffee orders after a couple of days. Everyone was super friendly and happy to help. Lots of return guests, people hugging servers, talking about other guests arriving later that week. Breakfast is included for everyone I believe and was great. They had an omelette station, lots of fresh fruit, pastries, cold cuts, a whole bread station and like 10 different types of yogurt - naturally because you are in Greece. As did all the hotels they packed us a breakfast basket because we were leaving well before breakfast started.